CENTURION, South Africa, (Reuters) – South Africa  claimed India's last two wickets in 35 deliveries to win the  first test by an innings and 25 runs on the final day at  Centurion yesterday.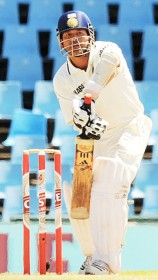 Opening bowlers Morne Morkel and Dale Steyn took a wicket  each as the world number one side, resuming on 454 for eight,  were dismissed for the addition of only five runs.
Shanthakumaran Sreesanth failed to add to his overnight  score of three as he pushed firmly at a delivery from Morkel  that was outside off stump and offered AB de Villiers a  regulation catch in the slips.
Jaidev Unadkat (1) handled his first few short deliveries  well but his 10th ball, from Steyn, spat viciously and the  debutant could only fend it to Ashwell Prince at gully.
Sachin Tendulkar ended undefeated on 111, having batted for  five hours and 27 minutes. His 50th test century was an innings  of great composure and technique but not enough to save India,  who trailed by 484 runs after the first innings.
South Africa called on fast bowlers Steyn and Morkel to  clinch victory, as they had in India's disappointing 136-run  first innings when they shared eight wickets.
Steyn finished with four for 105 in 30.1 overs, while Morkel  took two for 94 in 31 overs. The duo are likely to be a handful  again in the second test in Durban starting on Sunday.
KALLIS TRIBUTE
Left-arm spinner Paul Harris finished with two for 88,  Jacques Kallis one for 56 and Lonwabo Tsotsobe one for 98.
Kallis scored 201 not out, his maiden test double century,  in South Africa's innings of 620 for four declared to bat India  out of the test and win the man-of-the-match award.
South Africa captain Graeme Smith paid tribute to Kallis,  who is third on the all-time century list and currently the  world's top-ranked test all-rounder.
"In so many ways, Jacques has been the man who has put the  national team on the map, he has held us together and for the  first time he has had a strong batting unit around him in the  last few years," Smith told a news conference.
"When he got his double hundred, it was a big moment, the  changing room was very emotional and you could see how much it  meant for everybody.
"Maybe it's a South African thing, but most of us are flying  under the radar. But what this team has achieved in terms of  results and individual performances has been outstanding and  this was another big win, against the best team in the world at  the moment. As a team, that's what we want to be doing, playing  at the very top of the game."
India captain Mahendra Singh Dhoni said his bowlers' lack of  penetration was his biggest worry and added leg-arm pace bowler  Zaheer Khan would return to the side after missing the match  because of a hamstring injury.
"He's been bowling the last few days. He is a key player  because of the amount of experience he brings and the plans he  comes up with during the game. And you need that experience to  play in these conditions," Dhoni said.
Around the Web