New York (SMS) — Golden Guyana's football (soccer) is set to score another major goal when it national senior men's team play an international friendly on American soil for the first time.
The historic game is set for November 17 in Kennesaw, Georgia, and pits the Golden Jaguars against the Guatemala national team in the opening match of the El Patron International Soccer Series.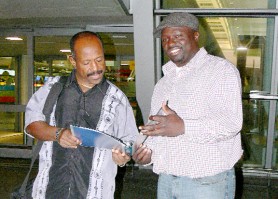 The match is the product or arrangements among the Guyana Football Federation (GFF), Guatemala's General Consul, Clear Channel's El Patron 105.3 FM radio station and Georgia's women's professional soccer club – the Atlanta Beat. And, the group has joined with the Guyana Association of Georgia (GOAG) to resolutely use the ensuing three-week period to ensure that the interest and support for the two teams equals the expectations for the one momentous match.
If those numeric adjectives seem like a countdown to gameday, then it so might be! The organisers are counting on delivering a classic soccer experience and more, so said Colin Baker, President of the Guyana Sports Foundation based in Florida, USA.
Baker, who is in Mexico managing the Guyana women's squad in the CONCACAF Gold Cup-World, took some time off to tell Stabroek Sports that his team's head coach Mark Rodrigues was responsible for the preliminary arrangements for the game.
"Mark was the one who made the link initially for Guyana's football."
Thereafter, Baker, Rodrigues and International Coordinator, Garth Nelson, followed up on behalf of the GFF whose President Colin Klass spoke with this newspaper in New York on Wednesday while in-transit from a meeting in Zurich, Switzerland.
"Now, that we are having the game, we plan to make a major impact by fielding our best possible team which will comprise both overseas-based and players from home."
Nelson, who will spearhead the team's logistics in the USA, says the Guyana squad is likely to comprise 26 members, inclusive of players, officials and other support personnel.
"During their visit the team will also be involved in other related activity to endear them with their fans and other supporters," Nelson said.
Apart from media day activities, the Golden Jaguars are also expected to attend welcome receptions and visit places of interest and enclaves of the Guyanese diaspora community.
The game is scheduled to kick-off at 7:30pm – Georgia time at the Kennesaw State University (KSU) Soccer Stadium. Admission prices start at US$24 and are initially available on sale online through website: www.theatlantabeat.com and at the KSU Soccer Stadium'S ticket office (Mon. – Fri. 10am to 5pm). Groups of 20 or more receive a special discount by calling 1-678-297-4780.
Guyana and Guatemala are currently enjoying favorable results at football, and carry FIFA/Coca Cola World rankings of No. 98 and No. 122, respectively. They are also listed among the top-20 teams in Continental rankings with Guyana at No. 8 and Guatemala at No. 14.The match will be the first international friendly at the spanking new 8,300-seat soccer-specific stadium. It also boasts of hosting a women's game between China and the USA in early October as a warm-up for Team USA for the Gold Cup.  "We are excited for the Guyana-Guatemala game since it will bring major sporting entertainment for the vast Hispanic and Caribbean communities of the Atlanta area," noted Christa Mann, the Atlanta Beat's Manager of Media Relations. "Also there will many other spin-offs from this, including helping promote this new first-class stadium," Mann added when she spoke with this newspaper earlier this week, a few days after the official announcement of the game was made at a press conference in Atlanta, Georgia.
Also talking in an exclusive interview was Austin Thompson Jr., vice-president of the GOAG, who had joined with executives of the Beat along with the Guatemala General Consul at the presser. Thompson was agog that such an event was coming to his backyard. "We are looking at this game in its historic sense making it like a national festivity in the Atlanta area for our Guyanese representation among the Caribbean Diaspora here," he said.
"We want to make sure that this inaugural game in the series is well promoted and attended by Guyanese so that it raises the bar and sets the standard for following games in the series," Thompson pledged.
Playing this historic game against Guatemala, according to Klass, is "key" in his federation's plans to broaden Guyana's scope beyond the Caribbean region, and into the international landscape, including Central America.  "The Central American teams exhibit a certain passion for football, and you'd always want to have a campaign against them because if you're going to meet to the world stages then those are teams that you'll want to play and basically beat, to measure where you are," said Klass. He added that the Jaguars should have played the Chapines last year, but the game did not materialize due to unsatisfactory arrangements.  Incidentally, national women's squads from both the Land of Many Waters and the Land of Eternal Spring are part of the eight-team current Gold Cup competition – though in different groups – looking to qualify for the 2011 World Cup.
Comments
Wales Football Club secured its second win in the Stag Beer sponsored West Demerara Football Association (WDFA) Senior League edging Jetty Gunners 1-0 yesterday at the Den Amstel ground.

Stewartville Secondary punched their ticket to the next round of the Digicel Schools football championships dismissing Windsor Forest 5-2 yesterday at the Leonora Sports Facility.

LILLE, France, (Reuters) – Wales produced a stunning upset to reach the Euro 2016 semi-finals after Hal Robson-Kanu's superbly fashioned goal and Sam Vokes's late header secured a 3-1 comeback win over Belgium yesterday to set up a clash with Portugal.

BORDEAUX, France, (Reuters) – Title contenders Germany will come face to face with their ultimate tournament nightmare when they take on Italy in their Euro 2016 quarter-final in Bordeaux today.

Despite possibly being eligible to represent Canada in the future, recently capped Golden Jaguars international Shaquille Agard said that his intention was to always represent Guyana on the international circuit.