Tonight the Kashif and Shanghai Tournament continues and title dreams will continue to be dashed.
Two more teams will be eliminated when the Georgetown Football Club (GFC) Ground comes alive again with what is expected to be an intriguing double header. In the opening match Liquid Gold will collide with Sunburst Camptown at 6pm while in the feature match, Pele will face Fruta Conquerors at 8pm.
The feature showdown promises to be a keenly-contested battle with both teams stating that they are confident of giving a good account of themselves.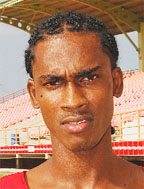 Coach of Pele Football Club, Gordon 'Ultimate Warrior' Braithwaite, told Stabroek Sport:"We are well-prepared for the game and the tournament. I have confidence in the team and they have confidence in themselves."
Braithwaite stated that the Kashif and Shanghai Tournament was a special one for the team and with the addition of national players Charles 'Lilly' Pollard, Shawn 'Bubbly' Beveney, Gregory 'Jackie Chan' Richardson and Devon Millington they are a force to reckon with. The former national player disclosed that the weather affected the team's preparation but said they trained through it to become fitter.
Conquerors, though, will be full of confidence after coming off a tough victory against Victoria Kings.
They defeated the East Coast team to make it into the final 16 and according to their coach, Sampson Gilbert, "they are prepared to impose themselves on any opposition to gain the upper hand."
Liquid Gold's Prakash Jaisera said since their battle with Riddim Squad from which they emerged victorious they have returned to the drawing board and have had good training sessions.
"We are not 100 per cent prepared but we are getting there. The calibre of our players is not as high as the other teams because of discipline issues but we work with what we got."
He added that they have done a lot to try and correct the mistakes made in the previous match and are hopefully that the players mature along the way and learn as much as they can.
The team has a good record against the Camptown side with quite a few drawn encounters against them in the Super League.
He said the squad was very optimistic and was hungry for a chance to display their talents at the Guyana National Stadium.
The Camptown squad will be no pushover and coach Bill Wilson said his team will be the same everyday team by being technically sound and playing nice attractive football.
He  said they will be using the tournament to extend the good form they have been displaying.
Around the Web