Petite, pretty and vivacious 17-year-old Melinda Shankar is the star of a new film, Festival of Lights, set in Guyana and the US. Melinda, a Canadian citizen of Guyanese parentage, plays the part of a young woman who travels to Guyana to locate her father who was left behind when she and her mother migrated to the United States when she was three years old.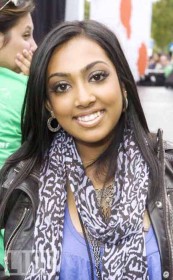 In this all too familiar tale of the migrant Guyanese family, split up in the hope of providing betterment by chasing the American Dream, Melinda's character Reshma is a young woman who longs to find out why her father was never around when she was growing up, and why her mother never tried to "get him up to the States".
Reshma, plagued by vague recollections of her childhood in Guyana, journeyed to the land of her birth to locate and reunite with her father. She learns why her father was unable to make the move to the USA as the journey takes her to the Mazaruni and Georgetown prisons.
In a recent tête-à-tête with The Scene following another round of gruelling filming in downtown Georgetown, the bubbly and engaging teenager revealed that she's ecstatic with her trip, her third so far, to Guyana.
While admitting that she can hardly remember her first visit to this shores when she was but a mere three-year-old tot, the young actress said she loves Guyana and regrets that she will not be able to stay much longer and enjoy the atmosphere, which she describes as being good for her medical condition as well as her overall health.
"I just like how real everything is in Guyana. I don't ever wanna leave when I come. I think it's so much healthier. I have asthma and I think that the air and the food are so much healthier… and I never really have to use much of my medication as when I'm in Canada.
"I got so jealous. I got here later than everyone else, and they went to Kaieteur Falls, and they won't stop talking about it, they are in love with it," the teenager gushed.
The petite beauty was in Guyana to shoot the second half of the film, the first of which was shot in New York.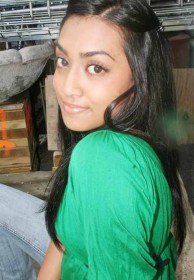 Melinda started acting at ten years old and admitted that "its hard, cause you know most people work like a 9 – 5 job and I'm doing a 20-hour day on top of being a full-time student, and its hard to have a social life at the same time.
"…But I've been doing it for a long time and it's in my blood. My grandmother, she's a Guyanese, she used to do theatre, and her dad was a director and an actor as well in Guyana."
Since the age of three the Canadian teen says, she has been engaged in competitive ballet and karate, and she is still fitting them into her crazy schedule.
Melinda is a member of the cast of a Canadian teen series, Degrasssi, which follows the lives of a group of teenagers living on De Grassi Street, in Toronto, Ontario.  She is also portrayed as the best friend of the star of an upcoming Disney Channel Original Movie, Harriet the Spy, which is the second film adaptation of the book, titled the same, by Louise Fitzhugh.
That film completed shooting a couple months ago and will be out in March. She said it was being filmed practically at the same time that the New York scenes for Festival of Lights.
Asked whether it is too much for her, the teenager admits, "it's not bad, I like filming, I like acting…" While all the other characters are from the USA, Melinda is by no means alone; her Guyanese father accompanied her on this trip, and serves as the Production Manager.
Melinda, who turns 18 this month, is being tutored on set and intends to concentrate fully on further developing her acting career as well as touring the world. "A couple of months ago I would never have expected to be in Guyana shooting a movie, let alone New York," she said.
Writer and Executive Producer of the movie, Shundel Prasad, revealed to The Scene the inspiration behind the film.
"I'm originally from Guyana, and I have strong feelings about immigration and illegal immigration and I just heard of story about a dad who was not allowed to come into the States," she said.
"It's not based on just one true story, its based on stories of people who have been separated and their struggle to reunite… sometimes it takes years, decades for families to reunite and I'm very moved by that concept and that was the inspiration for it."
This is Prasad's third film; her last project in Guyana was in 2006 where she shot Once More Removed, A Journey Back To India, a documentary, which tells the story of indentureship which replaced the African slave trade in the Caribbean. It was set in the time between 1838 and 1917, the indentureship period, when over half a million Indians were transported to the Caribbean to work on the sugar plantations.
Around the Web