You can flip all you like, I prefer my pancakes dropped; that's way I grew up having them, and even though I've mastered the art of flipping, I have to tell you, there's only one way I want my pancakes – dropped!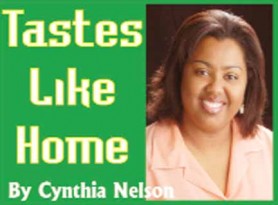 This past week was one of great excitement and revelry with carnival in Trinidad & Tobago, Dominica, Rio, Mardi Gras in Louisiana and other celebrations around the world all heralding the beginning of Lent – the period of time (40 days) observed by Christians in preparation for Easter. On the Tuesday before the Lenten season begins – Pancake Day, Shrove Tuesday, Fat Tuesday – pancakes of all varieties are made and eaten with unbridled delight; for the next 40-days we will strive to fast and abstain from the foods considered to be rich and highly fattening.
Last Sunday morning, I made some pancakes – the type that you cook on a flat griddle or tawah if you have one. It's the kind of pancake that you need to flip so that both sides are cooked evenly (think North American pancakes). I used a recipe for apple pancakes I'd gotten from a friend. The recipe specified that the eggs be separated – whites and yolks – with the whites being beaten until they are firm and then folded into the batter. The recipe was a triumph for the pancakes were light and soft yet substantial from the apples in the batter. I shared the pancakes with my neighbours serving them with a syrupy plum jam I had stored for such an occasion; they enjoyed them.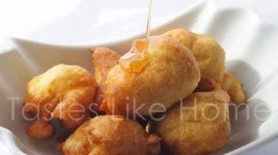 The following day, I tried to convince myself that I had already made and eaten pancakes so there was no reason for me to make pancakes again on Tuesday. Wrong, wrong, wrong! No matter how hard I tried, I could not will myself not to make the good ole Guyanese-styled pancakes that my mom and her friends would make and send to each other's homes. Talk about feasting on pancakes! Sometimes we had 4 sets of pancakes and accompanying syrups, enough to get you high on sugar! So, I gave in. I made pancakes again! This time, I made the kind I grew up on, the pancakes that the batter was dropped into hot oil and fried then liberally drizzled with homemade syrup flavoured with cinnamon or vanilla.
We're talking here about pancakes that are pillowy soft, light, airy, and wonderfully fragrant with the yeast, warm to the touch. You take one, swirl it the syrup at the bottom of your bowl that's formed a little pool, take a bite, douse the other half, bite-side down into the syrup, getting it into all the airy pockets… put it into your mouth, close your eyes and feel the warm syrup squirt all over your mouth as you bite down and chew. You want to open your eyes as you finish that one, going for another but you ask, "Must I open my eyes and break this spell?"
Again, I took some of the pancakes over to my neighbour. I offered the container indicating that I had brought some pancakes for her and I saw the puzzled look on her face as she reached out take the container and then I realized that she was only familiar with the North American, flipped-style pancakes and so I explained.
The Guyanese-styled pancake is influenced by our Portuguese heritage. As I've said more than once in this column, food travels and so the Portuguese immigrants that came to Guyana from Madeira would have brought with them their traditional foods. One of the things would have been this yeasted fried dough-pastry called Malasada. These days in other parts of the world it is also known as Portuguese Doughnut.
According to research, the malasadas would have been traditionally made to use up the lard and sugar in the house – luxuries forbidden from consumption during Lent. And so my friends, this influence is firmly rooted in our multi-cultural Guyanese society. That's why we make the kind of pancakes where the dough-batter is yeasted, left to rise and then dropped by spoonfuls into hot oil and fried. Outside Guyana, people shower their malasadas with powdered sugar or roll them generously in granulated sugar. In Guyana, we generously coat ours in homemade syrup.
Pancakes  & Syrup
Ingredients For Syrup:
2 cups brown sugar
1 (4-inch) cinnamon stick
1 cup water
For Pancakes:
2 cups all-purpose flour
1 heaped tablespoon granulated sugar
¼ teaspoon salt
1 heaped teaspoon instant yeast
¼ teaspoon ground cinnamon (optional)
3 large eggs, room temperature
1 teaspoon vanilla essence
¾ cups warm whole milk (110 – 115 degrees F)
Oil for deep frying
Directions For Pancakes:
1.  Add flour, sugar, salt, yeast and cinnamon if using, to a large bowl and mix thoroughly
2.  Add eggs and essence to a small bowl and whisk gently (you just want to break up the eggs and get them mixed with the essence
3.  Make a well in the centre of the flour mixture, pour in the eggs and milk and stir to make a smooth batter
4.  Cover and let rise in a warm place for 1 ½ hours or until the mixture has doubled in quantity. Meanwhile, make the syrup.
For Syrup:
1.  Add the sugar, cinnamon stick and water to a medium sized saucepot, turn the heat to medium-high and stir until the sugar is dissolved.
2.  Bring the mixture to a boil and immediately reduce to low and let simmer gently for 15 – 17 minutes. Remove from heat and set aside to cool completely
Frying Pancakes:
1.  Add oil to a deep frying pan and heat until hot but not smoking
2.  Working with 2 tablespoon, scoop and drop the batter into the hot oil. Do not over crowd your pan. Let fry for a minute or until nice browned, and turn to brown the other side. Remove with a slotted spoon and drain on paper towels
3.  Repeat this process until the batter is done
4.  Serve drizzled generously with syrup while still warm
Around the Web