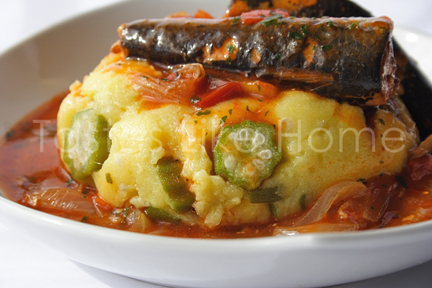 Perfect Cornmeal Cou-Cou cooked to the high Bajan standards in 10-minutes? In a microwave oven? No way! Way!


About three weeks ago, while having dinner with close friends, I happened to be seated next to a friend, Pauline, a phenomenal home cook who describes her food pretty much the same way as I do – it's food, my way. I don't need to state the obvious, but I will; we spent the evening trading recipes, tips and advice and Pauline told me about this foolproof way of making Cou-Cou in the microwave oven in 10 minutes!
One of our fellow diners at the table (male) scoffed and dismissed the idea, "I would never eat that! I don't particularly like Cou-Cou but if I do have to eat it, I would never eat it cooked that way!" The diner's wife looked somewhat embarrassed at his outburst but she nevertheless took out a pen and a piece of paper from her handbag, leaned across the table and started to jot down the recipe as Pauline was reciting it. The woman jotting down the recipe explained to us that her children in England love Cornmeal Cou-Cou but don't have the time or know how to make it properly. In other words, the traditional way – cooked over very low heat and stirred constantly for 90 minutes!
Unlike my fellow diner, I was not sceptical about how well this 10-minute micro-wave Cornmeal Cou-Cou would turn out.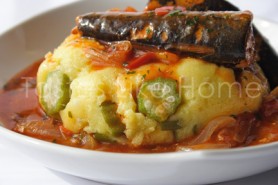 This past week, after teaching a 3-hour class and doing errands, I arrived home, hot and hungry. I wanted something that would cook up in less than half an hour. Pauline's microwave-cooked Cornmeal Cou-Cou leapt to mind. In less than three minutes I sliced the okra, mixed it into the cornmeal, along with water and salt; poured everything into my buttered dish and into the microwave it went. Meanwhile, I cooked the sauced topping.
Just as promised and guaranteed, the Cou-Cou came out perfectly cooked! In 10 minutes! I added a pat of butter to the top as instructed and left it to cool a little so that it can firm up before diving in. I was totally blown away at the simplicity of making this dish and the taste was spot on! Excited and energized by this super-fast way of cooking Cou-Cou and anxious for feedback, I sent some of it to two of my neighbours – Gwen and Marie. These two women are my go-to tasters and testers when it comes to me making traditional Bajan food. Both of them can cook exceptionally well; one is in her mid 80s and the other in her late 70s. I did not tell them beforehand how the Cou-Cou was cooked because I wanted to know if it was up to the true-true Bajan standard.
A couple of hours later the phone rang. It was Gwen, the feistier of the two with exacting cooking standards. She said, "Like we will have to give you a Barbadian passport." She did not need to say anymore, her comment spoke volumes. It meant, just as I had thought, that the Cornmeal Cou-Cou was spot on!  As a friend of mine would say, "It was pulling!"
It was only after Gwen and Marie's high praise that I revealed that the Cou-Cou was cooked in the microwave oven and that it was done cooking in 10 minutes! They were shocked, surprised and enquiring… "You mean we can make Cou-Cou everyday if we wanted to? In 10 minutes?" I responded exuberantly, "Yes! Yes! Yes!"
And so too can you dear reader, here's how:
Cornmeal Cou-Cou
Ingredients
(Thanks Pauline)
1 cup fine cornmeal
½ teaspoon table salt
1 cup sliced okras
3 cups water
Butter
Equipment
1 large bowl
1 large spoon
1 regular sized oven and microwave proof bowl (I used a round Pyrex bowl)
Oven mitts or kitchen towels
Directions
1.  Butter the Pyrex bowl generously.
2.  Add the cornmeal, salt and okra to the large bowl and toss to mix.
3.  Pour in the water and stir to mix.
4.  Pour the mixture into the buttered dish and transfer to the microwave. Set to cook for 6 minutes.
5.  At the end of the 6 minutes, remove the bowl from the microwave – use the oven mitts or kitchen towels to hold the bowl, as it will be hot. Place the bowl on the counter and give the mixture a stir to mix. Place the bowl back into the microwave and set it to cook for 4 minutes.
6.  Remove the bowl from the microwave, add a pat of butter and leave it on your counter top for at least 15 minutes to firm up before serving. Of course, if you like your Cou-Cou soft, serve immediately.
Comments

One day she took all of her savings and ordered camera equipment, giving in to the pull of photography; she has not looked back since.

Eight gorgeous young women will vie for the inaugural Miss Teen Yarrowkabra crown on Saturday, November 25, at the Yarrowkabra Gym.

Last evening 18-year-old Vena Mookram would have flown the Guyana flag high on stage at the 67th Miss World pageant at the Sanya City Arena in Sanya, China.

Come tomorrow night at the Giftland Mall patrons would be treated to the 'Best of Nothing to Laugh About' which would comprise some of the best skits that show did over the last ten years since it entered the entertainment industry.

At just minutes to midnight on Sunday, November 5, Cindyann Khan was crowned the new Miss Guyana Talented Teen, and Oshay Roberts the first ever Miss Princess Guyana before a large gathering at the Promenade Gardens.