The organizers of Guyana's third annual Wedding Expo held at the Roraima Duke Lodge from March 25 – 27 are hailing the event as a "significant success" and "a national showpiece that has now become part of the country's event calendar."
Chief Executive Officer of Roraima Airways Captain Gerry Gouveia whose company introduced the event in 2009 told Stabroek Business earlier this week that from a commercial standpoint the even "offered both small and large service providers in the events and entertainment industry an opportunity to display their goods and services"  to an estimated 15,000 people who "passed through the Duke Lodge to witness the event over last weekend. If we were perhaps a bit disappointed that more big businesses did not take the opportunity to place their goods and services an show we were delighted that a number of small operators in the various facets of the wedding industry took advantage of the opportunity to be there and to display what they had to offer."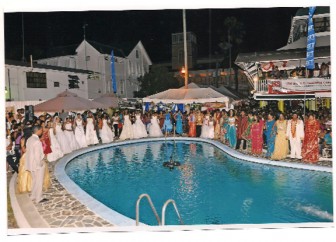 Gouveia said that while the event itself is not a place where there is a great deal of commercial activity it is an event that allows people to window-shop, to explore ideas and perhaps even to come to arrangements with people who may be contemplating one service or another for their wedding. The Roraima CEO said that its significance as a business event apart the company was also particularly pleased with the tourism component of the Wedding Expo 111. "As you are aware we are only now joining other countries in the Caribbean who have been hosting Wedding Expos for several years. What we have that makes the local event attractive is the cultural diversity that lends an entirely different dimension to the event," Gouveia said.
Meanwhile, according to Gouveia the outcomes of the three Wedding Expos that have taken place in Guyana up to this time has persuaded the management of Roraima that the event can have a knock-on effect for visitor patronage of the various other tourism-related services in Guyana. "If we can persuade visitors to come to Guyana to get married there are any number of locations in Guyana which they can visit. What this means, of course, is an increase in the number of visitor arrivals and an increase in activity at our tourist resorts, hotels and night clubs.
Approximately 50 exhibitors mounted displays at last weekend's Wedding Expo and Gouveia made particular mention of the role played by the Guyana Telephone and Telegraph Company (GT&T) whose contribution, he said, "epitomizes the spirit of corporate social responsibility."
"If there is a challenge that we face as far as promoting wedding tourism in Guyana it is the bureaucratic headache of having to hang around for what in my view is an unacceptable period waiting to get married. We need to look at the law urgently," Gouveia said.
Around the Web