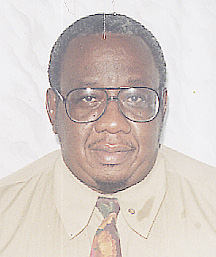 Along the southernmost isle at the Stabroek Market there is a row of tiny food stalls which have been serving spicy curries on beds of hot rice to hundreds of customers long before Guyana became independent. These establishments have passed from generation to generation and today they serve as a tribute to the resilience of their proprietors, people who have made it their life's work to give service to others.
After coping with the hassle of an often congested 'Big Market', Guyanese from all walks of life, eager for a cool drink and a tasty meal, are drawn to these snackettes. It is, for some, a daily pursuit..
An old man bargaining for "a good price" on a plate of curried snapper distracted himself long enough to tell Stabroek Business, "this is a cultural thing, you know. I been buying from this one shop here for more than 40 years now."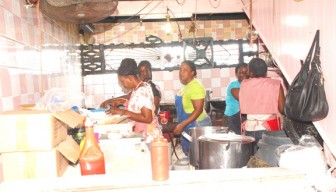 Over time, the respective proprietors have had mixed fortunes. For some business has slowed, for others things have improved and the vagaries of their respective businesses have had much to do with the emergence of the more modern, fast-food establishments. Some of their customers have kept faith with them but these small enterprises make no secret of the fact that survival is a struggle.
"In my mother time when she used to sell this was a hot spot," Satyawantie Kasrinanda, the owner of Anita's Cook Shop, said. "She didn't have to compete with these other food places around today. Now when people come to town they have so many other choices."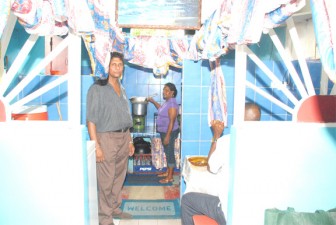 Kasrinanda, called Anita, has been selling food at the Stabroek Market for more than 35 years. At 15, she dropped out of high school to help her mother at the cook shop. Her mother, she told Stabroek Business, started the cook shop to supplement the income brought in by her father who was a hire car driver. "When they bought the place they named it after me and when I left school to help my mother I learnt the business well. I have been doing this since then."
Over time Anita has expanded. She currently owns three of the food stalls located in the area. On a busy day she feeds more than 50 customers and though she still does a thriving trade she insists that business was better two decades ago.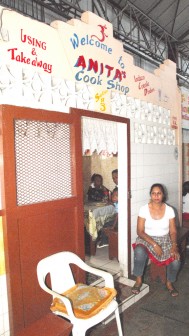 When the business was started by her mother in the early 1960s there were fewer stalls in the market. Business was better, she said, not only because there was less competition but also because everything, including labour, was cheap. Fish curry remains a customers' favourite but the price of fish has gone up steadily over time. "From last year to now I had to raise about $200 more on the Gilbacker curry because that is one fish price that always increases and never comes down," Anita said.
The food shops run by Chandranie Sheonaraine have a more modernized appearance. She too has been grappling with higher prices but said that she continues to aim for higher standards. Like Anita she inherited the business from her mother. "My customers are dealing with a higher cost of living too and I try to make things more affordable for them by keeping the price standard," she said.
Six days a week, from Monday to Saturday her workers open the two stalls run by Chandranie. One is owned by her sister who resides overseas. The day begins with a cleaning routine before the boss arrives to oversee breakfast arrangements for the regular customers.
Chandranie recalled that 40 years ago her mother would cook everything at the stall using a coal stove. These days it is more convenient to do some of the cooking and preparations at home,
During the interview, a customer stopped by to pick up an order. Once she tried her hand at conventional catering but simply could not cope with the competition presented by the larger, more sophisticated catering services. "There isn't much else I can try to do to make more money," she said.
Towards the end of the line of food stalls there are two relative newcomers. They have been operating there for about ten years. Karen Joseph sold food in front the Stabroek Market before she made what she says was a $1.5 million investment in her food stall. On any given day she prepares about 12 different dishes and serves about 200 customers. Prior to setting up her current operation she was running an illegal one, vending outside the market. She is happy with the move since she has retained access to her customers. She bought the stall from a family that had run a business there for about 50 years. "Is this Indian family was migrating and they had the place up for sale and I thought it was a good opportunity to buy it," she said.
Krishendat Kashrinandan, called Ronald, has also been operating his cook shop for about ten years. He is the only male operating a food stall here. He bought the business from his aunt, Basmattie, who is now more than 80 years old. She was migrating and offered to sell him the business. Apparently, she wanted to keep the enterprise in the family. He thought at the time that it was a good opportunity but admits that these days increasing costs continue to cut into his profits. Still, he hopes to pass it on to his daughter.
The others, however, are less certain as to what the future holds. Anita and Chandranie are unsure whether their own establishments will remain in their respective families. "My children are still young and I doubt they will show any interest in this type of business," Anita said.
Chandranie is more concerned about half a century of family tradition and hard work dying. The woman said one of her children had expressed some interest in the cook shop and she could only hope that her offspring will continue the microenterprise when she retires.
"We have been here a long time and we have worked hard to keep our business alive. If we fade out then a chunk of our long ago culture will die with us. This is more than just a business for me. This is everything I have worked for my entire life," the woman said.
Around the Web