Agriculture Minister Robert Persaud on Monday moved to allay industry fears of an imminent imposition of restrictions on the export of timber and value-added products from the sector triggered by a letter dispatched last week to business houses by the Guyana Forestry Commission (GFC) informing them of export restrictions from September 1.
Amidst publicly expressed fears voiced by exporters of value-added products and backed by both the Private Sector Commission (PSC) and the Guyana Manufacturing and Services Association (GMSA) that export restrictions might result in drastic reduction in the scale of their operations and, in one case, the laying off of hundreds of employees, Persaud engaged stakeholders at a hastily arranged meeting on Monday where the controversial GFC missive was rescinded. However, lingering fears that the forestry sector may still remain hard-pressed to meet the cumulative needs of an accelerated domestic housing drive and a growing external demand for value-added timber products has led to an agreement at Monday's meeting that the Minister will hold weekly meetings with representatives of the various stakeholders in the sector including officials of the PSC, the GFC and the Forest Products Association (FPA) to monitor the situation and to discuss other sector-related matters.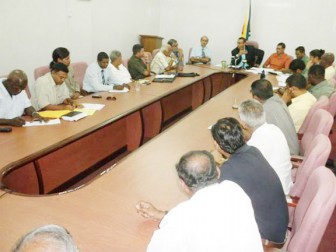 Two weeks ago this newspaper reported that Minister Persaud, under whose portfolio the industry falls, had refuted suggestions of a serious shortage of both timber and value-added timber products as well as claims of poor quality lumber made by Howard Bulkan, owner of Bulkan Timber Works, a local company that manufactures pre-fabricated houses for export.  Bulkan, whose claim appeared to be corroborated by some local building contractors and sawmillers with whom this newspaper spoke,  had attributed the alleged shortage to, among other things, the closure of some local sawmills and poor quality product produced by others.
However, in an invited comment, Minister Persaud had sought to provide assurances that while demand increase had been created by the expansion of the country's housing programme the forestry sector possessed the capacity to correct those temporary shortages over a relatively short period. Persaud also defended the quality of lumber being produced in the industry pointing to quality guidelines put in place by the Guyana Forestry Commission (GFC).
At last Monday's meeting, however, stakeholders appeared to be moving towards a position of guarding against a timber shortage by ensuring more careful monitoring of forestry sector policies. The meeting agreed on the strict enforcement of the existing policy that requires forest concession holders to confine their log exports to product harvested only from their own concessions. At the same time concessionaires are also required to supply information on current available stocks of timber for the local market to the GFC.
At Monday's meeting, meanwhile, Minister Persaud announced that in order to maximize timber production to meet growing demand government would be moving to reclaim and reallocate dormant timber concessions and to encourage active concessionaires to step up their timber production. Last Monday's meeting also agreed to the hosting by the PSC and the FPA of a sensitization workshop on the state of the industry for timber suppliers, building contractors, engineers, architects and other stakeholders at which issues associated with current local timber demand, specifications and species usability will be discussed.
Earlier, Minister Persaud had told this newspaper that part of the problem associated with shortage claims had to do with demand preference for traditional species of hardwood, notably greenheart, in preference to other non-traditional species. Those sawmillers to whom Stabroek Business spoke confirmed both that greenheart was the preferred species of hardwood among consumers and that there was, in many cases, a reluctance to settle for alternative species.
An assessment of aspects of the local forestry sector published by the ITTO in 2008 has also pointed to what it said was "too much reliance on traditional commercial species" a practice which it concluded, "may exhaust the current supply."
In his comments made to this newspaper Minister Persaud also appeared to be locating the problem in the reliance on traditional timber species pointing out that high demand and attendant high export prices for some species would necessarily impact on the affordability among local consumers. Persaud has pointed out that government is not involved in price-setting in the industry.
The International Tropical Timber Organization's (TTO) Market Report for the   first two weeks of August 2011 provided confirmation of high export demand for traditional Guyana hardwoods, pointing out that international prices for Guyana's traditional log exports including greenheart, purpleheart and mora were "good" enough to encourage exporters. According to the Report dressed greenheart prices increased from US$890.00 to US$1,018.00 per cubic metre while prices for other value-added timber products exported from Guyana, including plywood, piles and poles remained high.
Meanwhile, Stabroek Business understands that at last Monday's meeting, representatives of the GMSA's wood products sub-sector  voiced their objection to the continuing practice of "wholesale log exports" and announced their intention to lobby the industry to bring the practice to an end. The GMSA sub-sector is contending that the industry as a whole has failed to address the impact of log exports on the availability of local product for processing and is calling for more urgent sector attention to the issue.
Around the Web