Almost two weeks after a letter issued by the Guyana Forestry Commission (GFC) raised concerns about restrictions on the export of logs, stakeholders continue to debate how to ease the shortage of lumber and the impact it is having on housing construction and other sectors.
Agriculture Minister Robert Persaud's hasty withdrawal of the GFC's letter imposing restrictions on log exports appeared to be a reaction to a robust response from local private sector bodies including the Guyana Manufacturing and Services Association (GMSA), whose members include producers at the value-added end of the forestry sector. Comments on the possible consequences of placing restrictions on exports including warnings of possible loss of jobs appeared to push the Minister in the direction of alternative solutions to the local lumber shortage including a decision to repossess and reallocate dormant timber concessions and press these into service in order to help meet local demand.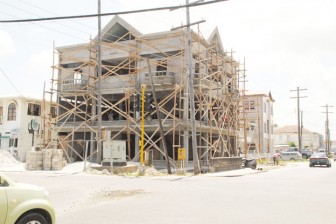 At the August 22 meeting with local stakeholders and private sector umbrella organizations the Minister conceded that there were indeed supply challenges in the face of an expanded housing programme, mandating the GFC to move to increase supplies. He appeared more than a little piqued over the shortage, blaming the problem on low production by large concessionaires. "People are sitting on concessions……the bulk of the production is being exported," the Minister declared. GFC data indicates that more than 60 per cent of total production is exported.
A subsequent stakeholder forum convened on August 26th attracted a number of sawmill operators, manufacturers and concessionaires but, it seemed, few if any contractors, the original complainants regarding a local lumber shortage. Arising out of the exhaustive discourses several recommendations, – ranging from the application of funds garnered from the Low Carbon Development Strategy (LCDS) to improve access roads to public education programmes designed to popularize the use of lesser-known species – were made.  None, however, appeared to embrace the challenge of finding a short-term solution to the immediate lumber shortage, setting aside the intervention of Barama Company Limited which amidst the crisis placed 1 million board feet of lumber on the local market,
The various sub-sectors of Guyana's forest products sector each make their own separate demands on available lumber supplies. Not only has added-value manufacturing increased over the years, but it has also made a significant contribution to employment, technology transfer and social services. The returns from this sub-sector are, in some instances, considerable with some entities securing valuable external niche markets.
Guyana's timber also benefits from high demand and attractive prices in the Caribbean which is also in the throes of a construction boom in both the housing and hospitality sectors. Internationally, the demand for Guyana's processed wood products is also high. The global demand for tropical wood products, particularly in China and India is at a peak and Guyana is well positioned to capitalize on this demand.  The United Kingdom, Denmark and the Netherlands, all have very high demand for sawn and added value tropical wood products which are similar to Guyana's species and wood products. In China, many of Guyana's wood species are in high demand for use in flooring production and other value-added end uses.
The current expanded housing programme makes the extent of local lumber demand difficult to assess though the true nature of the problems associated with the current scarcity is best gleaned from information acquired from contractors and sawmillers.
If the most enlightening perspective on the shortage of lumber is to be had from building contractors and lumber dealers, representatives of these two sub-sectors have, up until now, been keeping a low profile on the issue. Two weeks ago Stabroek Business spoke with some named lumberyards that conceded an acute shortage of the main species of lumber used in the construction industry. Further investigations with lumber yards earlier this week indicate that the scarcity is widespread. Up to yesterday few lumberyards in the city and its environs were stocking what they considered to be adequate quantities of either greenheart or purpleheart, two of the species that lie at the very heart of the building trade. Contractors were paying prices ranging from $320 to $380 per board metre for both species. "It's not just the prices that vary it's quality as well," one contractor told us. Other species common to the building industry including Cabacalli, Silverballi and Mora were fetching prices ranging from $180 per board metre to $210 per board metre.
Both contractors and sawmill operators say that prices of dressed lumber have shot up by more than 20 per cent and that in circumstances where lumber continues to be in short supply and where, moreover, the best quality continues to be exported, local consumers will effectively be paying more for less. In fact, this newspaper actually witnessed two spats between separate lumberyard dealers and customers arising out of differences of opinion on the quality of wood.
With the state-driven countrywide housing programme now well underway, both contractors and sawmill operators say that lumber scarcity is seriously affecting consumer choice. Original plans to build out of wood are now being hastily adjusted in favour of concrete, the result not only of the shortage of lumber but of a lack of trust in the quality of lumber available.
Another contractor told Stabroek Business that while government is pushing for greater use of the lesser utilized species in the building sector, it really is a matter of "fear of the unknown." He believes, he says, that it is for the government, through the Guyana Forestry Commission (GFC) to undertake both public education programmes and laboratory tests on those lesser-known species in order to create a measure of consumer comfort. "We keep talking about these lesser known species, but that's exactly what they are, lesser known species. The people in the building industry and the people who build houses don't know these species. We work with what we know."
That, however, is not entirely true. Scarcity and high prices for species common to the building sector have resulted in various forms of aberrant behaviour by contractors. From more than one source we were told of instances of lesser-known species being passed off as 'regular' hardwood. What happens, according to a city sawmill operator is that some contractors simply buy what is available "for certain jobs." He explained that there have been complaints from home-owners about closets and kitchen cupboards being built from various types of softwood which are then sprayed as a precaution against wood pests. He said, however, that since these woods are not known there is no telling whether they will "stand up" over a periods of time.
Contractors are uncertain as to the likely impact of the shortage of lumber and the introduction of lesser-known species on the building industry in the face of the absence of an education programme for both themselves and home-builders coupled with their own reluctance to shift to those alternative species.  They blame the scarcity of lumber on factors over which, they say, the government has control like the unchecked export of the country's best quality lumber to markets in the Caribbean and elsewhere; the price of fuel, which has doubled between 2010 and 2011; the stringencies of the Low Carbon Development Strategy (LCDS) which have resulted in more effective policing of the industry; the higher cost of acquiring traditional species from deeper in the forest. And even if, at least up until now, there are no serious indications that the lumber shortage is having any significant impact on the housing sector, the issues of both scarcity and quality could well come back to haunt home-owners in the future.
Around the Web