The village of Edderton, or No 4, West Coast Berbice can be spotted from a distance because of the huge mango trees which line the roadside in front of residents' homes. Almost every home has mango and other fruit trees – not forgetting coconuts. Residents of the mixed community told Sunday Stabroek that most of the coconut trees at the back of the village have been chopped down to clear space for persons to build houses. They noted too that for a small village with a population of around 2,000, there are quite a few business ventures and about six Christian churches.
Some of the businesses include Sign Arts Graphics, a mechanic, auto-electrical workshop and a beauty parlour. There are other small businesses as well such as snackettes and catering services, while a funeral home is currently under construction.
There are also large-scale rice farmers and other small rice, livestock and cash crop farmers. Other residents work as nurses, teachers, cane-cutters, farmers and minibus owners/operators.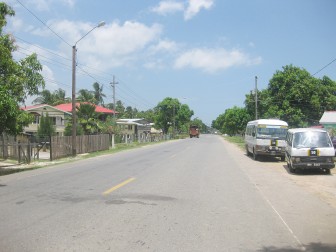 This newspaper spoke to an elderly resident, Eugenie Johnson-Skeete, 85, who was born and grew up in the village, but in 1946 went to live in Linden after she got married. Fondly known as 'Aunty' or 'Cousin Babsie,' she returned to live at the nearby No 5 Village in 1982 after her husband built a house there. She is now staying in No 4 Village at her daughter's house.
Skeete who assists with cooking and taking care of her flower plants, gave birth to 16 children, including triplets who lived for just one day. Struggling to make ends meet, she worked in the rice fields, planted a kitchen garden and did washing and ironing for teachers and nurses. She also made cakes and ice cream which she and a son sold around the village on Saturdays from a push-cart. She is still called on by villagers to bake their black cakes for their weddings.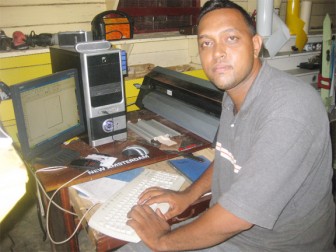 Claudius Thom, a former member of the army and a father of five recalled that at one time the village had just a few houses. He also told this newspaper that the roads in the area were made of brick and were in a deplorable state. He remembered too that "five privately-owned big buses were operating and when they got stuck, tractors used to be at the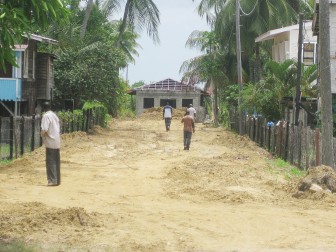 side of the road to pull them out."
Gairy Croal, 47, who operates a small convenience store in front of his home said he tries to sell little items so that residents do not have to travel too far to obtain them.
In front of the New Light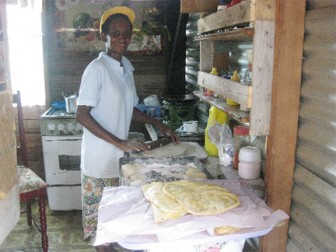 Assembly of God Church and next to Croal's shop is a bus shed where he later went to join two other persons who were there relaxing. The bus shed was built a long time ago but was broken down, and 'Pastor Mark' rebuilt it with the help of residents.
A vendor, Joan Schultz, 63, was selling along the road, waiting for her next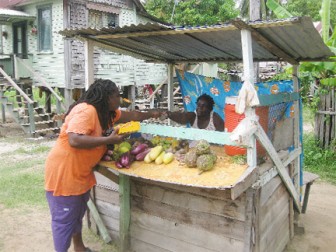 customer when a resident, Sharon Mars walked up and purchased a piece of pumpkin to cook. Mars who had left her "rice boiling at home" was very excited when she learnt that her village would be featured in the Sunday Stabroek.
She commented that whenever she and her neighbours, Sursattie Seeta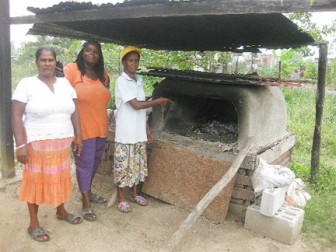 and Corlet Thom "see the stories of the other villages in the Sunday papers we always quarreled that you all are not coming into our village."
She immediately invited this reporter to the back of the village where they live. Thom, a caterer popularly known as 'Puri Lady' was busy making dhal puri. She would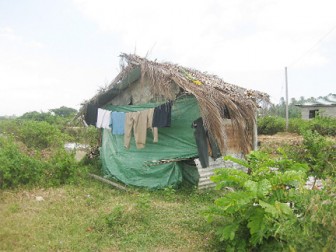 normally make up to 300 after starting her day at 2.30 am.
When this newspaper visited around 11:30 that morning she had just completed her order of 210. She carefully wrapped them in different parcels and was assisted by persons to deliver to her customers. Sometimes when she needs a hand Mars and Seeta would gladly go over to help and would get paid with "two puri to eat."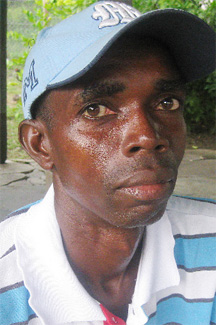 Thom also bakes cakes, buns, salara and other sweet snacks in the huge mud oven in her yard. During the Christmas season she gets a lot of orders for black cake and would take a break from the dhal puri "to focus on my baking." Some days she would start from 8 am and go on until midnight. Residents would also use her oven to do their own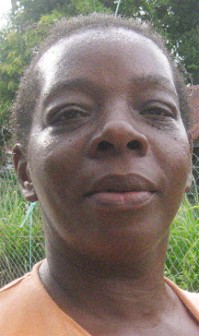 baking and her "yard would be in a mass of confusion."
Trevor Harripersaud, 29, a former supervisor from Docol Company and a graduate of the University of Guyana, operates Sign Arts Graphics. He specializes in computerized decal for all types of vehicles as well as business and road signs. Harripersaud said he "always loved art but I never thought there would be an opportunity for me to make money from it."
It was while attending UG at Turkeyen that he realized "there was a major need for that business in [West] Berbice. People used to go to Georgetown whenever they needed to get signs of that nature done."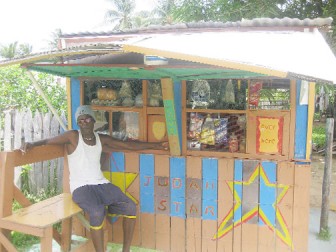 Like other residents, he noted that the area is "peaceful and quiet and everyone look out for each other. We don't really have fights. Even during elections time there is no racial divide…"
Next door, Lincoln George operates a mechanic's shop where he services all classes of vehicles. He spent 18 years at GuySuCo's Blairmont Estate working in that trade and 10 years working on his own.
During that time he trained several young boys who had dropped out of school and even gave them a small stipend. Some of the boys are now running their own workshops. One operates a workshop in Georgetown and would call him when he needs advice, "and whenever he cannot handle a job, I would go and fix it for him." He also conducted training through the Ministry of Labour.
His wife, Leslyn, a data collector attached to the Guyana Marketing Corporation visits farmers from No 11 to No 30 Villages.
 
Concerns
Residents are concerned that they do not benefit from an electricity service because the Guyana Power & Light (GPL) has only provided the service up to a certain point. In the case of Thom, she said it is very difficult to work so early in the mornings and so late during the Christmas season without electricity. Residents were told to purchase the poles for $30,000 and Thom said she still has hers in front of her home waiting on GPL to come.
Thom rears poultry while Mars and Seeta plant kitchen gardens. The women were happy that the drains in that section [western] had recently been dug.
That section has two streets, one of which is asphalted while the other is of mud. The residents want it fixed because whenever it rains "the place is in a mess." Residents from the eastern section said that "for years when other communities were being developed with streets, No 4 remained the same." However, the Rosignol/Zeelust Neighbourhood Democratic Council is building a street there.
Residents complained that the "lack of telephone service has stagnated businesses. It is a major setback because we cannot even have wireless internet." According to them, "They [GT&T] had given us the antenna phones but they are no longer working and residents depend on cell phones."
They said too that, "The area is not properly laid out and other people end up occupying a part of someone else's land. We don't even have cross streets in this area and residents have to end up walking through people's yards to access their homes."
According to Sean Mc Donald, a pastor, the moral standards of some of the youths have been dropped because of the lack of recreational activities. He said the village had a playground but some residents have claimed ownership and are now occupying it.
Around the Web