If a panel of experts were to be required to name the ten Guyanese sportsmen who have accomplished the most in their respective disciplines over the past 25 years, the inclusion of the name Ransford Goodluck on that list would almost certainly be automatic. In fact, the exclusion of Guyana's and the Caribbean's most accomplished contemporary rifle shooter would be a travesty.
No local athlete can boast of competing at three Commonwealth Games, being named on a West Indies team in a competitive sport and  being crowned Caribbean individual  champion…at least 10 times! Ransford Goodluck has accomplished that and more. The nation's top marksman has captured almost every title on offer in regional rifle shooting in an illustrious career spanning more than 30 years. At the age of 58 he is convinced that he still has more to offer the sport.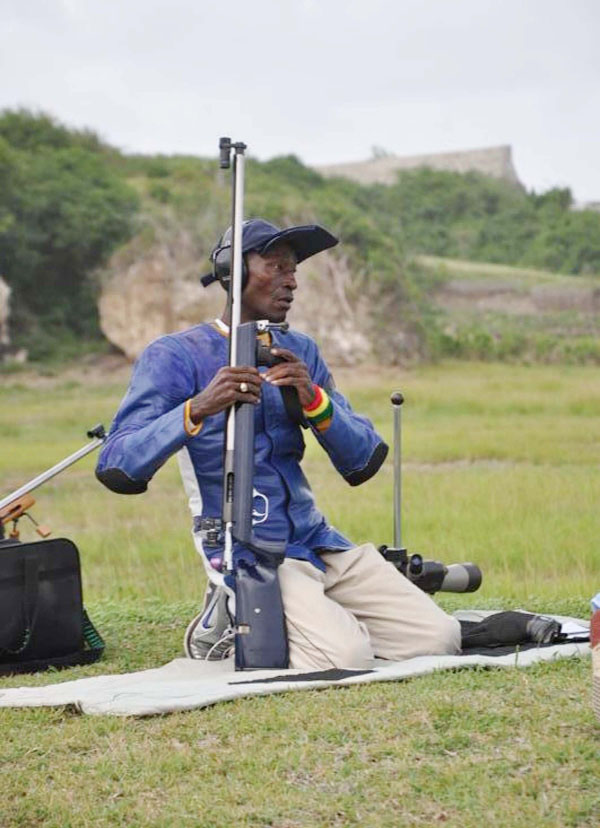 Twice named National Sportsman of the Year and twice named runner-up Goodluck has won the Caribbean overall full bore title on ten occasions, the most by any Guyanese shooter. No Guyanese sportsman in any discipline comes even remotely close to matching that consistency. At one point the ace shooter held both national rifle and handgun titles.
Goodluck first represented Guyana at the Commonwealth Games in Victoria, Canada in 1994 and was part of the Guyana Rifle Shooting Team at the 2002 Games in Manchester, England and again last year at the Commonwealth Games in India. Last year, he teamed up with National Full Bore Captain to place fifth in the pairs competition in India in a field that included most of the top rifle shooters in the world. The effort may not have won Guyana a medal but the significance of the accomplishment was noteworthy.
A fixture at the forefront of national rifle shooting for more than fifteen years, Goodluck became familiar with air rifles shooting as a seven-year-old boy growing up in Georgetown at a time when other boys of his age favoured sling shots. That, at the time was fun for the son of a former Police Officer. Never did he dream at the time that one day he would become a household name in the sport.
Born in Queenstown, Georgetown, Goodluck's father, Sergeant Isaac Goodluck served as Armorer of the British Guiana Police Force. His father's profession never served as an enticement for him to become a policeman; however, he did become involved in assisting with repairs and servicing of rifles.
On leaving school in 1971, Goodluck joined Central Garage Street as a trainee auto electrician. Encouragement to join to Force came, not from his father but from another policeman, his uncle, the now deceased former Deputy Commissioner of Police Ivan Crandon. He enlisted in 1972 and, he says, has never had any regrets about his career choice. When his father retired and a replacement was being sought to fill the position of Armorer, Goodluck was assigned to the armory.  He would remain there for most of career as a policeman.
In 1982 he was appointed to the post of Force Armorer. In 1992 he was promoted to the position of Sergeant and effectively became the official custodian of all force Arms. He held that position until 1995 when he was transferred. He retired from the force with the rank of Chief Inspector.
Shooting came naturally to Goodluck. He never failed to be on the winners' rostrum during the Annual Police Force Live Fire Training. His first taste of international competition came in 1979 when he was selected as a member of the local rifle shooting team for the Caribbean Full Bore  Championships hosted by Guyana. Success came immediately. Goodluck won the short range title in 'O' Class (junior category) and with it several other prizes.
He joined the Guyana National Rifle Association (GNRA) that year after Captain Paul Archer, Neville Denny and close friend Paul Slowe who had gone to Barbados the previous year and returned with several prizes, persuaded him to do so. The next six years, however, were difficult ones.
He was convinced that he could have been among the top shooters. The lack of availability of high-quality equipment meant that the quality of his performances declined. When, however, he acquired a new rifle in 1985, his career was revived. That year he was selected to represent the West Indies at the World Long Range shooting championship at Bisley, universally regarded as the Mecca of international rifle shooting. Bisley proved to be the toughest possible introduction to the 'big time.' The harsh English weather coupled with the high level of competition were eye-openers for the Guyanese rifleman. Nevertheless he was named one of the best West Indian shooters on the tour.
Goodluck names former national captain Paul Archer, who now resides in Canada and the late English shooter Paul Tucker, a two-time Queen's Prize Winner as his primary inspirations.
For all his success and the physical and mental demands of the sport, Goodluck is not contemplating retirement. "You never retire from rifle shooting. You grow old in it and you could take part as long as you can see the target and be physically able to compete," he says.
Around the Web