Thomas Schuller~Götzburg is the new Plenipotentiary Representative of Austria to the Caribbean Community (CARICOM).
He presented his credentials to CARICOM Secretary General (ag.) Lolita Applewhaite yesterday at a simple ceremony held at the CARICOM Secretariat. Marianne Da Costa previously held the post of Plenipotentiary Representative of Austria to CARICOM.
Speaking at the ceremony, Applewhaite highlighted the support that Austria has often to CARICOM over the years.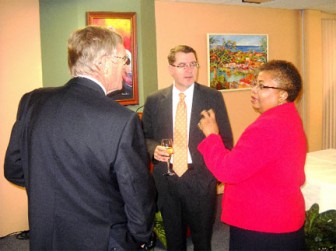 She specifically acknowledged Austria's response in the aftermath of the devastating earthquake that struck Haiti last year. The response came in the form of contributions to the relief efforts through the European Union and the International Federation of Red Cross (IFRC), along with the Office for the Coordination of Humanitarian Affairs of the United Nations (UNOCHA), she disclosed.
Applewhaite also acknowledged Austria's provision of scholarships in the fields of Hotel and Tourism Management, and Diplomatic Training. "These scholarships provide the opportunity for our respective countrymen and women to interact in ways that transcend academia and that endure far beyond the duration of a course," Applewhaite said.
She said that CARICOM in turn has given support to Austria, especially in relation to the issue of candidatures. According to Applewhaite, at the Twenty-Ninth Meeting of the Heads of the Community, held in July 2008 in Antigua and Barbuda, there was unanimous commitment to the supporting of the country's candidacy for a non-permanent seat on the UN Security Council for the period 2009 to 2010.
She also pointed to an Memorandum of Understanding (MOU)  signed between CARICOM and Austria in September 2008, saying that it is "wide in scope and covers such important areas as disaster management, promotion of sustainable energy and energy security which are related to Climate Change"  Climate Change, she noted, is  one of the major threats to the Region," Applewhaite. "These areas remain critical and relevant areas to Caribbean development and CARICOM looks forward to working even more closely with Austria in bringing to implementation, projects in these fields," she added.
Around the Web