Roshini Boodhoo bested nine other beauties on Friday night to take the Miss India Guyana Worldwide crown and title, winning for herself the chance to represent Guyana at the Miss India Worldwide contest in Dubai.
Sponsored by S Boodhoo, Roshini also won for herself an undisclosed cash prize, make-up and an entire wardrobe.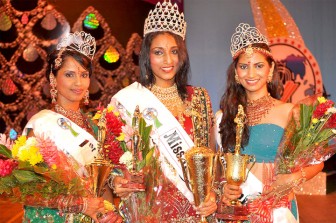 Shivanie Latchman (Miss Popeyes) and Divya Sieudarsan (Miss GPL) are the first and second runners-up, respectively, while the third and fourth runners-up are Christine Camacho (Miss Toolsie Persaud Inc) and Mohini Roopchand (Miss Rockies Brazilian Bar), in that order.
Despite a half-hour late start and a bomb scare, which had patrons standing outside the National Cultural Centre for over an hour on Friday night, the APSARA sponsored beauty contest proved to be a success. The contestants portrayed confidence and intelligence combined with beauty and talent.
The contest featured four segments – the Evening Gown/Introduction segment, the Talent segment, the Indian Formal Wear segment, and the Question and Answer segment. The contestants were judged by a panel of nine judges, with Minister of Human Services and Social Security Priya Manickchand and Captain Gerry Gouveia among them.
The final question was focused on migration and how the delegates would encourage their fellow Guyanese to stay and develop the nation. The two best answers were given by the queen and the first runner-up. The former quickly and confidently spoke of Guyana's beauty and stated that we have to work together as one people, one nation, and one destiny.
Boodhoo in turn alluded to the problem of teachers migrating, and ended with, "many tourists are going all over the world and talking about Guyana's beauty. Why can't you stay here and talk about your own country?" The contestants were each given one minute to answer the question.
Among the prizes received were a laptop computer, which went to the first runner-up; a Blackberry mobile phone, which went to the second runner-up; and gift vouchers and hampers that were given to the other runners-up.
Among those who received consolation prizes were Miss Best Smile, won by Miss Palm Court Stephanie Jane Singh; Miss Photogenic won by Miss A. Ramotar Trading Trisha Persaud; Miss Best Talent won by Latchman; and Miss Congeniality won by Boodhoo.
The pageant came to a close at approximately 1:15 am yesterday.
Around the Web