LONDON, (Reuters) – Former England all-rounder Fred  Titmus, whose playing career with Middlesex spanned five  decades, has died at the age of 78 after a long illness, the  club said today.
The off-spinner played 53 tests for England and in four  Ashes series against Australia, the last in 1974-75.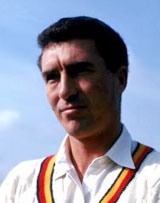 He made his first-class debut for Middlesex in 1949 at the  age of 16 and his final appearance in 1982 after a record span  of 33 seasons.
Despite losing four toes when his foot was caught in a  propeller in a boating accident during the 1967/68 Tour of the  West Indies, Titmus was able to continue his international  career into the 1970s.
"Fred was a fine cricketer, a fine off-spin bowler and a  very useful batsman. In that era there were so many off-spinners  around in the world and he was up there with the best of them,"  former test umpire Dickie Bird told the BBC.
Around the Web