The trial for the fourth man involved in a foiled plot to blow up New York's John F Kennedy International Airport will start on May 2, even if the defendant, Kareem Ibrahim, is too weak to participate, US District Judge Dora Irizarry said in a Brooklyn, New York court on Friday.
According to a Bloomberg report, Judge Irizarry on Friday said that Ibrahim, 65, a citizen of Trinidad, persisted in not eating or drinking as the trial date approached. Ibrahim, who was rolled into court in a wheelchair yesterday, weighs 114 pounds and has been refusing water, insulin injections for diabetes, and his Ensure nutrition shakes, doctors told the judge by phone yesterday.
"I see cyclical patterns here. When we get closest to trial is when he most persists with not eating. At some point, it's malingering," Irizarry said, after questioning Ibrahim's lawyers, doctors and an emergency medical technician about how best to take care of him during a trial.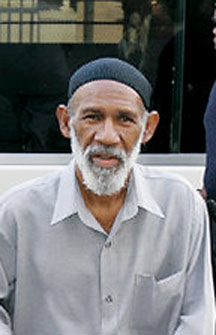 Meanwhile, the New York Post reported that a doctor
testified at the hearing on Friday that electroshock therapy might be an effective treatment for Ibrahim.
The report said at the court hearing Dr Karl Bernhard, a federal prison-hospital physician, testified that Ibrahim was suffering from "self-inflicted starvation and dehydration."
The doctor told Judge Irizarry that "electro-convulsive therapy" might be one way to treat Ibrahim's continual depression, resistance to eat or drink, and "oppositional behavior disorder."
"Mr. Ibrahim is not going along with the program in general," Bernhard testified.
In 2008 the court was told that Ibrahim had lost 85 pounds since he was arrested in his homeland of Trinidad on June 3, 2007, and at that time his lawyer, Michael Hueston had said he weighed less than 100 pounds.
"He [is] really almost all skin and bones," Hueston had told the court on November 4, 2008. "He [is], in fact, wasting away."
At the time he was said to be severely depressed, and prison officials were considering forcing him to take meds for his mental condition.
Because of his condition Ibrahim, who was an Imam in his native Trinidad at the time of his arrest, had to be granted a separate trial from that of two of his co-accused because he was deemed too ill to stand trial when the court heard evidence last year.
Three Guyanese have already been sentenced for their roles in a 2006 plot to blow up New York's biggest airport which was said to be worth over US$1M.
Ibrahim's trial date is now set for May 2.
The attacks, hatched by Russell Defreitas, were intended to blow up fuel lines and tanks and, ultimately, "the whole of Kennedy," Defreitas said in a taped conversation. The plotters circulated the plan to an international network of Muslim extremists, according to the government. They had also conducted surveillance of the airport, including videotaping its buildings, and sought expert advice, financing and explosives.
Defreitas, 67, a former cargo worker at the airport and Abdul Kadir, 59, a former parliamentarian for the PNCR, were sentenced to life in prison after being found guilty in August of last year. Abdel Nur, 60, was sentenced to 15 years after he pleaded guilty to a lesser charge.
Around the Web