MUMBAI, (Reuters) – Sri Lanka all-rounder Angelo  Mathews has been ruled out of Saturday's World Cup final against  India after injuring his right thigh muscle in the semi-final  against New Zealand.
In a statement on Friday, the International Cricket Council  said it had approved off-spinner Suraj Randiv as a replacement  for Mathews in the Sri Lanka squad.
The 1996 champions are also monitoring the fitness of  spinner Muttiah Muralitharan, who is suffering from a hamstring  injury and a bruised knee.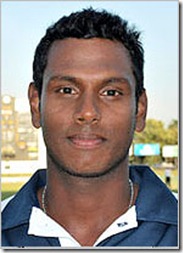 Muralitharan, the world record holder for test and one-day  wickets, will retire from all international cricket after  Saturday's match.
India left-arm pace bowler Ashish Nehra is unlikely to play  after fracturing the middle finger on his right hand during the  semi-final against New Zealand.
"Ashish is most likely to be ruled out," captain Mahendra  Singh Dhoni told a news conference at the Wankhede Stadium on  Friday.
Asked about his bowling options in the probable absence of  Nehra, Dhoni indicated he might be replaced by another pace  bowler.
"The Mumbai pitch has pace and bounce," he said. "If there's  reverse swing, then a seamer can have an impact on the game. If  you have three spinners then you don't have that room to  manoeuvre."
Around the Web