Ten community logging associations will this year benefit from training under an initial US$50,000 grant from the Food and Agriculture Organization (FAO).
The grant is part of the FAO's ongoing support to the Government of Guyana to build capacity within the forestry sector in pursuit of sustainable forest management, Dr Lystra Fletcher-Paul, FAO's representative to Guyana said at the signing of the Support Agreement at the Guyana Forestry Commission's (GFC) boardroom yesterday.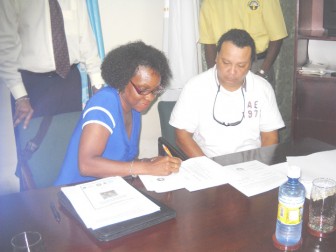 "The objective of the agreement is to enhance the capacity of small loggers' associations in Guyana to meaningfully participate in national forest dialogue," said Fletcher-Paul. "This will be achieved by improving their technical capacity in forest management and by developing their capacity to undertake community based enterprises to improve their livelihoods, while aligning these initiatives with national forest management objectives and standards," she added.
Initially, 10 associations will benefit but by the end of the three-year programme, it is expected that 30 communities would have benefited.
The areas of support for capacity building identified by the associations include forestry policy and law, forest management, timber grading, use of computers, poultry rearing and handicraft, Fletcher-Paul said.
The funds will be channelled through the FAO's National Forest Programme Facility to the GFC and the Forestry Training Centre Incorporated (FTCI) which will be implementing the project.
Fletcher-Paul pointed out that protecting and managing forests today is no longer such a technical issue but a policy and governance issue necessitating civil society participation in decision-making, adequate legislation and law enforcement. She noted that despite national and international efforts, the FAO has estimated that the annual loss of forests during the last decade amounted to 13 million hectares worldwide.
Director of the FTCI, Godfrey Marshall pointed out that the communities chose what areas they want to be trained in. The areas will be diverse, he said. Communities from Regions Two, Nine and Ten will benefit with training slated to start next month, he said.
Agriculture Minister Robert Persaud, in his remarks, thanked the FAO for the quickness of the delivery of funds.
In this light, he pointed to the difficulties experienced by Guyana in accessing funds from the Forest Carbon Partnership Facility (FCPF) and Norway. He said Guyana is still to access a US$200,000 grant from the FCPF despite being one of the first countries to qualify. "We turned out to be the guinea pig for the programme," he said.
Around the Web