Leyland Nichols and George Burrowes who were charged following the marijuana bust at the John Fernandes Wharf were yesterday remanded to prison after making their court appearance before acting Chief Magistrate Priya Sewnarine-Beharry.
The allegation against the two is that on June 16 at the John Fernandes Wharf they conspired with person or persons unknown to traffic in 393 kilogrammes 544 grammes of cannabis.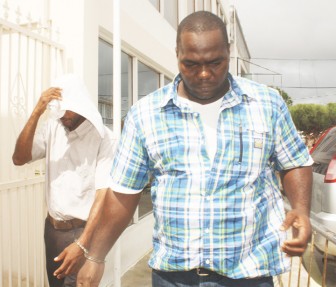 The jointly charged duo denied the allegation.
Further, Burrowes is accused of having in his possession a forged US$100 without lawful authority or excuse knowing same to be forged. He denied the charge.
According to the attorney who represented the men, his clients were severely beaten by ranks of the Customs Anti-Narcotic Unit (CANU). The lawyer said Burrowes' clothing was cut from his body by the ranks.
In his application for reasonable bail for his clients, counsel argued that at no point did his clients "point out any container to any CANU rank" that contained the alleged illegal substance.
He said too that there is no causal link between the defendants and what they had been charged with.
The attorney argued that these considerations amounted to special circumstances and requested that the accused be granted their pre-trial liberty.
The court found, however, that there were no special circumstances, after which the men were told that they would be remanded to prison. The matters will be called again on July 5.
An exercise involving the CANU, the Drug Enforcement Unit of the Guyana Revenue Authority (GRA) and security personnel at the John Fernandes Wharf resulted in some 800 pounds of marijuana being found in a container filled with shoes on the wharf early Thursday morning. The compressed high-grade marijuana was brought into the country from Jamaica last Sunday on board the MV Stadt Luneburg and is said to be worth US$600,000.
The consignee for the shoes is the owner of a city shoe store but authorities do not believe he knew about the marijuana although he was questioned.
The container with shoes originated from China but the last place the vessel stopped was in Jamaica.
Around the Web