Over the past six years, Food For The Poor (FFTP) has built six housing schemes, providing homes for over 4,000 people and as it marks its 20th anniversary with the distribution of over $1 billion in food under its belt, its focus is on the expansion of service to the needy.
"Food for the Poor does more than feed hungry individuals," Executive Director Leon Davis said. "This organization provides skills training that can enable the poor to work. Children are given the opportunity to [have an] education that will enable them to break free from the cycle of poverty that has ensnared generations. Water wells are drilled so that water can be provided to families. [There is] support for orphanages and [the] aged; and homes are built for families without adequate shelter."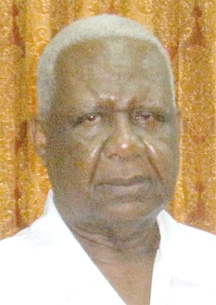 The NGO is celebrating its 20th year in Guyana having opened its doors on June 3, 1991. From its office in Festival City and working with partners, it has aided in the fight against poverty throughout the country.
Among the major achievements of FFTP is the construction of housing schemes in six villages in Essequibo, Region One and Region Four. It has also received and distributed over $1 billion worth of food.
In an interview with Stabroek News earlier this week, Davis said FFTP is funded mainly through the donations from the main office in Coconut Creek, Miami, headed by FFTP President Robin Mahfood. He said that over the years FFTP has celebrated many accomplishments. "These accomplishments would not have been fruitful without the donations since this is one of the most dominant factors for the organization's survival," said Davis.
For him, the best accomplishments over the years are the housing drives. He noted that these projects started in 2004 and since then over 1,000 houses have been built, benefiting some 4,000 underprivileged people. Agriculture, sewing and rearing of chicks are some of the projects that have helped to empower the beneficiaries and enhance their lives. "A project was built at Kuru Kuru on the Linden-Soesdyke Highway and 2,000 chickens were also given to the villagers of the Capoey district so that these villagers can be provided with food," he disclosed.
When questioned about how these communities and families are chosen for the housing projects, Davis said "we had to go and look at the conditions of these houses. Some houses that these families had were built out of cardboard and zinc. We chose the homes that were in the worst conditions. We found out [about the families who] lived in the homes and how much they earned in capacity. We then went ahead and built houses free of cost provided that they had their own land."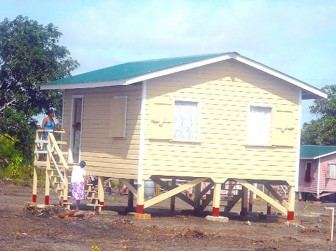 Meanwhile, Davis said that the chicken projects have been a constant source of food not only to the families but also to the inmates of the New Amsterdam prison. He also said that there is a special account set aside for persons who are released from jail and this serves to provide them with hampers of clothing, shoes and transportation to take them to their destination. He also mentioned that jobs were also provided to some of these prisoners "We have in our employment three ex-prisoners," he said.
The executive director stated that through the donations that are given to the organization, the Ministry of Education is provided with food, furniture, exercise books, and computers for the enhancement and training of the future generation. The Health Ministry is also provided with pharmaceuticals and beds and the Georgetown and other outlying hospitals have been beneficiaries.
New projects
"We had a successful 20 years but we need to strengthen… our ties to the poor people, we need to have new things done," said Davis. One of the organization's main plans for the future is taking care of newborn babies. "We are presently ensuring that when they are born they are looked after," he added, stating that clothing and food items are provided for newborns. The newborn care programme is currently being piloted at the Suddie hospital in Essequibo. FFTP will shortly donate items in other outlying areas, so that newborns can have the chance at a happy beginning," he said.
FFTP also has a plan to get more people involved in farming especially kitchen garden and fruit trees and will be giving seeds to citizens to accomplish this. Davis stressed that helping to improve the standard of living by eradicating poverty is FTTP's main goal.
In addition, he said that if given permission and professional advice by Guyana Power and Light, FFTP would like to put down road lights, especially in Amerindian communities. "There are some communities that I have visited that in the night, the villagers cannot walk along the road because the place is so dark," he said.
He also mentioned plans for further assistance in the communities where FTTP has established housing schemes. At Capoey for instance, he said, the organization will install a public computer system which will be powered by solar electricity.
Davis also noted the organisation's work in the development of sports. "We need to see more rivalry in sports," he said. He stated that the organization plans to provide more equipment to sporting bodies and individuals to enhance their performance. He referred to putting up "trophies in the name of Judy Roetheli for the winners of competitions." The Roethelis are major donors to the organization, providing funding for 'Lil Red Village' housing schemes around the country.
The organization contributes to feeding programmes, which Davis noted, "  increase the attendance of the students and help to save the parents money". Under its 'Angel of Hope' programme, it assists eight orphanages: Camal Home in Berbice; Mahaica Children's Home; St John Bosco Boys home in Plaisance; Bless the Children's home at Industry; Joshua House in the city; Ruimveldt Children's Home; Save R Kids on the West Demerara and Bright Horizon Family Home on the highway. Every month, these homes are provided food and toiletries as well as clothing, books and furniture. It has linked the children to sponsors overseas who they keep in contact with by writing letters. Children receive birthday gifts from their sponsors.
The government, shipping agents, donors and others have been instrumental in facilitating the work of FFTP and Davis expressed gratitude to them.
"We want to bring much more service and goods [to the people] but the serious problem is space. The building is too small," Davis said."We have to get a far bigger warehouse because we will be redoubling our efforts for this year and the next five years," he added.
Around the Web