Parents want the Ministry of Education (MoE) to launch a full-scale investigation into the violence at the Charlestown Secondary School on Friday afternoon which left one student and three teachers injured.
Demands are now being made for better security and an environment more conducive for learning at both the Charlestown and Carmel secondary schools. Several parents, whose children attend either school, expressed horror yesterday at what transpired following an incident where a Charlestown Secondary teacher reportedly assaulted a 12-year-old Carmel Secondary student.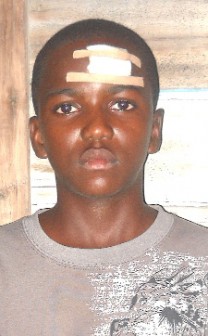 "I shudder to think of what else can happen in our schools," a parent, who declined to have their name published, said. "And I am not only shuddering because a man can walk in a school and chop teachers but because a teacher can attack a student in such a violent manner as well."
Sometime around 3pm that day, a relative of the 12-year-old child, Stephon Bourne, armed himself with a cutlass and barged into the compound of Charlestown Secondary. The man's actions were prompted by reports reaching him that a teacher from that school had slammed Stephon's head against a concrete wall.
The man chopped two male teachers to their heads and slammed a fist into the face of a female teacher. Police have still not been able to arrest him.
Patrick Bourne [not related to the injured boy] and Tristan Prescott were admitted to the Georgetown Public Hospital (GPHC). Both men were discharged from the medical institution on Saturday morning and are at home resting. The third teacher, Cliffon Johnson was hit in the face and was treated at GPHC and released on Friday.
In a press statement issued on Friday night, police said they were investigating the incident. They reported: "relatives of a twelve-year-old student attacked teachers of the school with cutlasses, after it was alleged that the student had been assaulted by one of the teachers. Investigations revealed that the student was allegedly assaulted by the teacher who he claimed had hit his head against a concrete wall in the school.  The student went home and returned to the school with his mother who was accompanied by some male relatives armed with cutlasses."
Speaking with Stabroek News in the presence of his mother, Stephon said that he and a friend (who also attends Carmel Secondary) were playing at the back of the school that day. The child said that the fence which separated the two schools had been dismantled so that a concrete one could be erected. As a result, there is no barrier separating the occupants of the two schools. "My friend was pelting me and I pick up a square piece of wood and had it in my hand and then Sir Tristan, he went upstairs by a window, shout down and ask me what I doing over on their school land and I ask he what he want to know for and he pick up this desk and I thought he was going to pelt it down on me so I fling the wood and run," Stephon related.
The child further alleged that Prescott then came downstairs after him. At first, Stephon said, he was running from the teacher but then his older brother advised him to stop. When Prescott caught up with him, he recounted, the man told him that he did not "make joke with children".
Prescott, according to the boy, then slapped him, pushed him head first into the wall and slapped him again.
Vanessa McGarrell, the mother of the injured boy, told Stabroek News that when she and her daughter arrived at the Carmel Secondary on Friday her son was in car with a teacher. The woman said that she was sent to speak with the head teacher of Charlestown Secondary. The woman said she did so and left and later she learnt that her son's father had been involved in an altercation at the school.
"Me and my son were at Ruimveldt Police Station and we give them statement and so but I don't know when the teacher going to court," the woman said.
Around the Web