The woman who allegedly set her husband alight in the Mazaruni area on Friday morning has turned herself over to the police and charges are expected to be laid shortly.
Relatives of the woman told Stabroek News yesterday that she turned herself over to police officers who had travelled to the Ikawan Backdam in the Mazaruni last weekend to investigate the circumstances surrounding the incident.
Forty-five-year-old Malcolm Lancaster of Rosignol, West Coast Berbice and of D'Urban Street in the city succumbed to burn injures at the Georgetown Public Hospital on Saturday evening after he was set alight by his wife during an argument early Friday morning.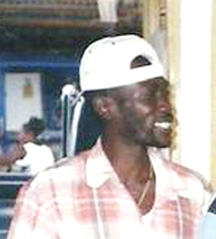 Relatives of the woman told this newspaper yesterday that the incident was the culmination of a series of domestic abuse over the years.
The woman's mother Wavette Walters told Stabroek News that her daughter and the man met close to 6 years ago while they worked on a Caribbean island. She said they returned to Guyana some time after and decided to travel into the mining area where they opened a grocery shop.
"For the first, everything was going good between the two of them," she said, "but you see after a while he use to get very jealous and he would beat her." The woman said that as time went by, she urged and even pleaded with her daughter to leave the abusive relationship but she noted that her pleas fell on deaf ears.
The woman stated that some time during the latter half of last year, the woman had taken  Lancaster to court after "he throw pepper in her eyes because he said she had another man".  She said that the other man whom he was referring to was one of her daughter's cousins, who was visiting Guyana at the time.
Walters said that the matter was eventually discharged after her daughter decided not to give evidence against the man in court.
She said there were occasions when her daughter would call home and relay various forms of abuses which were meted to her. "I know one day this woulda happen because she mussee had enough," Walters added.
She said that last weekend, her daughter called home from the backdam area to find out what had happened to Lancaster following the incident. She said her daughter was "very remorseful about what happened".
She said her daughter stated that she was not afraid of what she may face "in terms of the law". The couple had no children together.
Lancaster's son from a previous union, Mickhil Nedd, 22, who witnessed the incident, told Stabroek News that he and his father got up on Friday morning to start work for the day at the mining area around 5.30 am when his father and his stepmother began arguing. He said that during the argument, the woman had grabbed a knife and lunged at his father who sustained a cut to his hand. He said his father later gathered his belongings to leave for the coastland.
Some time after, as his father was melting a piece of gold over a small flame, he said, the woman threw a bucket of gasoline on him. The young man said that his father was engulfed in flames from "head to toe" and he later transported him out of the area to Bartica.
Lancaster was taken to the Bartica Hospital and was subsequently transferred to the GPH where he remained a patient until his death on Saturday evening. His family is awaiting the arrival of relatives from overseas before his funeral arrangements are finalized.
Around the Web