Denton Osborne, a former PNCR-1G member, now heads the Guyanese Youth Congress party which has formally notified GECOM of its intention to contest  elections in Region 10. Osborne is hoping to sweep the region and has his eyes set on the two parliamentary seats.
Osborne has rejected coalition politics saying today that the recently formed APNU (A Partnership for National Unity) has failed to create critical space for youths in its leadership structure.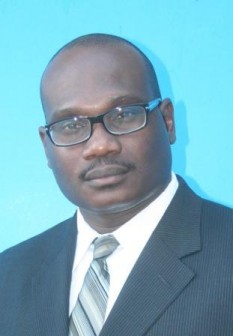 "In all these coalitions, our voices are lost. We want to make sure that young people's voices are heeded and that the issues which are of interest to us remain on the agenda", Osborne told Stabroek News.
Guyanese Youth Congress (GYC) is not affiliated with the PNCR and or the APNU, Osborne said, noting that they decided to break away from main opposition party and form a new party which is focused on youths and their development in Linden.
Osborne respects APNU presidential candidate, David Granger, but pointed out that he (Osborne) did not renew his membership with the PNCR since 2007. The Linden Youth Forum, which formerly supported the PNCR has pledged its membership to the GYC for the regional elections.
GYC submitted a letter of intent to contest the upcoming elections to Chief Election Officer, Gocool Boodoo on Wednesday prior to the commencement of a workshop for political parties organized by GECOM; the letter is said to have been forwarded to GECOM Chairman, Dr. Steve Surujbally.
GECOM extended an invitation to Osborne and other members of his party to join the workshop on Wednesday and according to the GYC Leader, the information shared at the forum was important to them as members of a new party learning the electoral process.
The law permits a party to contest regional elections only. Osborne seemed assured of one thing; the party is contesting for regional votes and is likely to pick up considerable support since according to him, "apathy has consumed voters in the region, particularly those who supported the PNCR".
Linden has seen no real development in about a decade or more, Osborne charged, noting the EU-funded LEAF programme was aimed at changing the economic landscape in the Region but that has now come to an end. Foreign investment is scarce in the community, he continued, saying the leaders currently in charge of the Region are barely functioning.
"If we can inspire other youths across Guyana to take charge of their own destiny there would be tremendous changes in this country… it's about seeking to building the kind of communities, regions and consequently, country that we would all like to see", Osborne said.
Osborne foresees resistance in some quarters, but declared that he is prepared to take on any force the party comes up against as it gears up for a campaign launch. "People will try to discredit us but we're ready", he said.
Granger means well…but
Osborne said Granger is a good candidate, noting he was initially prepared to offer him his support but after the APNU coalition the idea of forming a new party started to take shape.
"We have no quarrel with APNU or with PNCR or with Mr. Granger. I wish Mr. Granger success in his bid to win the national elections and my prayers are with him, but the GYC is here to ensure that young people's issues are on the agenda in Linden".
Osborne said his membership with the PNCR was allowed to slip away because he is not happy with how the party has functioned in the Region. He did not appear too keen on discussing Granger's policies and his plans for Linden, noting that his party is currently working on their own Youth Policy to be unveiled shortly.
Osborne criticized the ruling party for ignoring Linden and failing to inject the right amount of investment in "our depressed communities". Meaningful employment is the number one concern for Linden youths, he said, adding government has failed to address this issue.
He said the people of Linden would have a real choice at the upcoming polls to cast their regional votes for people who have been working behind the scenes in their interest for years. GYC was only formed about a week ago; he pointed out, but observed that its members have been active in the community for years.  The party's current membership is mostly Linden youths, but he is optimistic the older folk in the community will support them at the polls.
Politics in the region
Osborne decried "the politics in Linden" saying that very little can be achieved given the prevailing climate. He said his youth network has been working on behalf of many young persons in Linden regardless of political affiliations, noting that representations were made for persons to be included on the scholarship list for Cuba in past years.
He said too that they managed to find employment for many youths and have assisted others with personal projects, among other things. "People here know us from our work, not from talk and promises", he said.
With respect to funding, Osborne has plans to reach out to supporters in the community and persons in the Diaspora. He said that many persons have since pledged support while others have called to congratulate him on the step he has taken.
Osborne said he is bringing a wealth of experience working with youths to his position as Leader of GYC. He is into Public Relations and owns his own company; Osborne Associates Incorporated.
"We will fight for the development of our region, leaders here don't fight hard enough for Linden and the people here", he said.
GYC has chosen the Harpy Eagle as its symbol and it recently named Dexton Copeland, a PNCR councillor in Region 10, as its Chairman. The party is working on a website. Osborne can be contacted at email address: myosbo@gmail.com or telephone number, 628-3191.
Around the Web