Guyana Elections Commis-sion (GECOM) Chairman Dr Steve Surujbally discussed the commission's preparedness for the imminent general and regional elections during a recent meeting with the United Nations Development Programme (UNDP).
In a press release, GECOM said the discussions took place at its headquarters, when UNDP Officer-in-Charge Carlos del Castillo paid a courtesy call on Surujbally on Monday.
The chairman discussed the state of preparedness for the elections and the activities of the recently concluded Claims and Objections exercise that would lead to the production of an impeccable Official List of Electors and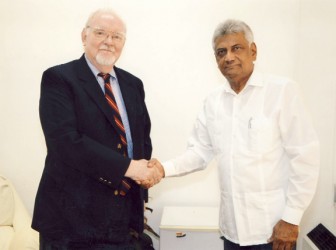 the conduct of the polls. GECOM said the meeting discussed the post-Claims and Objections activities associated with the elections; the possibility of international observers being invited to monitor the conduct of the polls; the provision of technical support, including the delegation of a Joint International Technical Assessor; the resuscitation of the GECOM Media Monitoring Unit and the appointment of an IT Manager at the commission.
Castillo assured the chairman of UNDP's continued commitment to provide assistance to GECOM, in keeping with its policies to support the democratic processes in Guyana.
Around the Web