Dion Mangali, of Cropper Primary, on the Corentyne, is Region Six's top student at this year's National Grade Six Assessment, while Cumber-land Primary School, in East Canje, produced the region's other top performers.
Dion, who scored 527 marks, told Stabroek News that he was dining at a restaurant in Georgetown with his parents, Subramini and Nalini Mangali, and a younger sister, when he received a phone call with the good news. He was overjoyed.
He said his success was achieved by "studying hard." The boy, who has his eyes set on becoming a scientist, also said he loves toread "all types of story books." He added that his father has promised to reward him for his good performance with a trip to somewhere in the Caribbean.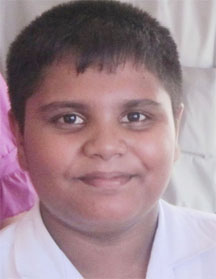 Nalini recalled that when Dion received the phone call, he "covered his mouth and started to scream." She said he was always brilliant but she did not expect him to top the region. She could not believe it and only confirmed that he had indeed done so well when they got back to their Albion Front, Corentyne home and checked the list on the Stabroek News website.
She said she helped him a lot with his homework and studies in the afternoons. That contributed to his success together with the effort and hard work of his Grade Six teacher, Sharon Appadu.
Nine other students of the school have also attained passes to schools in George-town this year.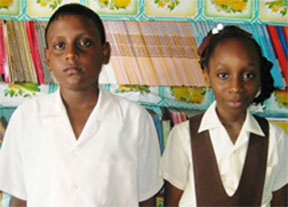 Meanwhile, 17 students of Cumberland Primary secured places at schools in George-town, with four of them, Shemuel Carmichael (526 marks), Sandra Thuesday (525 marks), Garadha Yashwardeo (518 marks) and Bibi Mondal (519 marks), respectively, being listed among the top students in the country.
Speaking with this newspaper on Friday, all of the students said they expected to do well and were not surprised when they heard the good news. They have achieved over 90% in all their tests from Grade One.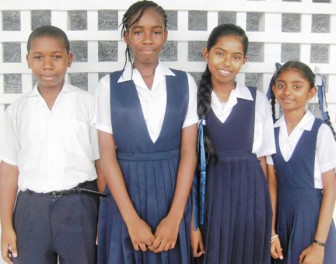 Shemuel, 12, of New St. Cumberland, was very modest about his success and said when he learnt about it all he did was "smile." He got up early in the mornings and studied and at nights he did his homework. He admitted shyly that he does not like to read "so much" but said at times he would read mystery books. He loves to watch cartoons on television as well as the news. He too thanked God, his teachers, especially Salima Jahoor, and his parents.
Sandra, of Sheet Anchor, said when she got the news of her achievements that she jumped and laughed in excitement. Her mother, Kimonda, assisted with her studies and she was grateful to her and to her teachers, especially Sharmain Beaton.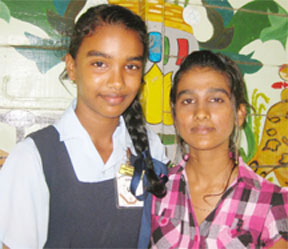 Although Garadha, of Rose Hall, Canje, expected to do well she still "screamed and jumped for joy" in excitement. She studied a lot and said her favourite subject is Math. She loves to watch television but during exams she had to give it up. She credits her success to all of her teachers, especially Salima Jahoor and her mother, Lillawattie.
Bibi said she excelled because she "studied real hard" from 6 pm to 9 pm with the assistance of her mother, Kavita Dhanraj. She thanked 'Allah' and her parents and teachers.
Meanwhile, three students of Region Five who also excelled among the tops are Yevnie Sukra of Blairmont Primary (526 marks), Zawadi Collins, of Woodley Park (524 marks) and Mohindra Dindayal of Novar Primary (518 marks). Naomi Latchman of Corriverton Primary (518 marks) has also done Region Six proud.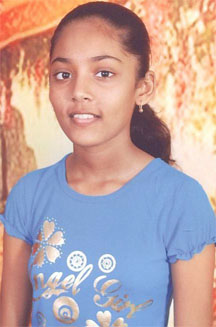 A staunch Christian, Yevnie said she prayed a lot and could not have done so well without God. "He did it for me," she said.
The well-spoken 12-year-old of No. 1 Settlement, Blairmont, said she loves to read and "spend time with God [in prayers]."
Her success was achieved through a lot of studying—from 8 pm to 10:30 pm every night—and the support of her mother, Felicia Sukra, who stayed up with her to study. She loves to read mystery and adventure novels, which she gets from her grandmother and also borrows from her friends and cousins.
In encouraging other students, she said, "If you put your minds to it and have confidence in yourself, it won't be hard; God would help you." Apart from God, she thanked her all her teachers, especially Silena Budhu and her parents.
Budhu told this newspaper that Yevnie "worked hard in class and was a very co-operative student. Overall she's an outstanding worker and I expected her to do well. I'm very proud of her."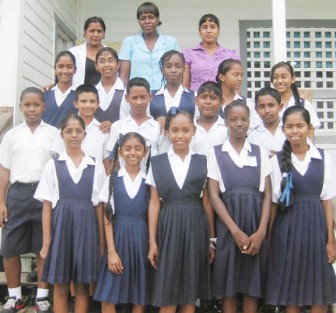 There was excitement at the Woodley Park Primary too upon hearing the news of Zawadi's results. The shy and soft-spoken 11-year-old said she loves to read her text books and that she revised every day.
She thanked God, her teachers, including Constance Cambridge who taught her in Grade Six, her parents, Wilfred and Nadine Collins, relatives and friends. A teacher, Janella Semple told this newspaper that Zawadi was "always brilliant. I read one of her compositions and it was excellent."
Another student of her class, Budyraj Ramoo, 12, (499 marks) has also achieved a school in Georgetown, St. Joseph's High School. Ramoo, who loves to read interesting books, also thanked Cambridge as well as his parents, and especially his mother, Savitree. Headmis-tress, Parbattie Fingal said she was "very happy and elated" with the performance of the children who "made us all proud."
She said they "worked hard and their success came through various teachers who taught them in all the classes as well as the others who encouraged and assisted them."
Naomi, 12 of Springlands, said her success came through hard work. She thanked her parents, Rajendra and Deokumarie, teachers, relatives and friends.
She said she enjoys reading and "I pick up anything and read, even magazines." Naomi, who wants to be a doctor, also loves to play games and watch educational programmes on television.
Rajendra said he always knew his daughter would do well because she is brilliant. When he got the news about her achievements, he was "overwhelmed and overjoyed."
Another student of the school, Alexander Bisram, 12 of No. 63 Village has also done well and has gained a place at St. Roses High in Georgetown.
Around the Web