(Jamaica Observer) A worldwide freeze of the assets of former Turks and Caiços Islands premier Michael Misick has been ordered by Special Prosecutor Helen Garlick, the Turks and Caiços Sun newspaper reported over the weekend.
Quoting documents it obtained, the Sun said the order was made on June 23 and included bank accounts held in the Turks and Caiços Islands and overseas, Misick's personal residence in Providenciales, parcels of land throughout the country, two condominiums, a cinema in Providenciales which still carries a variation of his ex-wife Lisa-Raye McCoy's name, and several credit cards.
"This Order prohibits you, Michael Misick, the alleged offender, from dealing with all of your assets wherever they may be situated in the world and in whosever name the same assets may be held," the Sun reported the document as saying.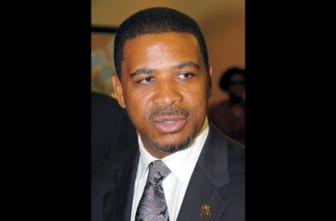 "This Order prohibits all of the persons, real or otherwise, named… from dealing with all or any of the assets in which the alleged offender has an interest, whether directly or indirectly, wherever they may be situated in the world and in whosever name the said assets may be held," the order read.
Misick, who has been at the centre of a corruption probe into the ruling elite on the British dependency, resigned in March 2009, saying he was giving way to a unified Government.
"I still think I have the majority of support in the public and in the country, but suddenly the majority of elected members, who represent voters at this time, wanted me to step aside, therefore I think I have done the honourable thing," he told the Caiços Free Press newspaper at the time.
His resignation came as the British government was considering legislation to suspend the constitution and hand over power to the British Governor Gordon Wetherell.
London eventually imposed direct rule on the islands in August 2009, a move that angered Misick who accused the British of organising a coup.
Wetherell brought in Garlick, a veteran fraud investigator, to act as special prosecutor in the case triggered by a probe into the Misick administration by Sir Robin Auld who reported that he found a "high probability of systemic corruption or other serious dishonesty" among the ruling elite.
The Turks and Caiços Sun story said that the order freezing Misick's assets names persons and entities which are believed to have assets belonging to the former premier, among them Lisa-Raye McCoy, Lyndon Roosevelt Gardiner, Lofton Misick, Floyd Hall, Jeffrey Hall, Chal Misick, Carlton Williams, Solana Holdings Limited, Grace Bay Plaza Limited, U-Hotels Holdings Limited, Prestigious Properties (1995) Limited, Avant-Garde Partnerships Limited, Hydronox Limited, Varcamp Holdings Limited, Secured Holdings Limited, Coral Square Limited, PRO Partnerships Debt Collection, Kasco Limited, East Harbour Nominees Limited, Schomer Limited, Nicosia, FirstCaribbean International Bank, British Caribbean Bank, Scotiabank (Turks and Caiços) Limited, Hallmark Bank and Trust, Joint Official Liquidators for TCI Bank in Liquidation, American Express Company, Interscope Development Limited, Dhow Limited, Sombra Co Limited Lakeview Homes Limited, Terrapin Investments Limited, Belview Holdings Limited, Windsor Investment Group, Windsor West, HSBC in Coral Gables, Miami, BSBC 445 Bedford Drive, Beverly Hills California, Nettie Becker Inc, USA, Bank of America, Premier Banking 818, Los Angeles, HSBC, Market Hill, Buckingham Road, England, NatWest Law Courts, Temple Bar branch POB 17020, Strand London, J & T Banka, Czech Republic and Arling Anstalt, Lichtenstein.
The court document said that if Misick disobeyed the order he may be held in contempt of court and may be imprisoned, fined or have his assets seized.
"Among the assets to which the order applies are Misick's former residence at Belview in Providenciales, Turks and Caiços Islands, 10.4 acres of land in North Caiços, a condominium at the Providenciales Golf Club, 1.2 acres of land on Leeward Highway which houses the LaRaye Cinema, 18.2 acres of land in North West Point, Providenciales, .97 acres on the Leeward area of Provo, another 1.08 acres in the same area, .35 acres in The Bight, another acre in the same Bight area, .7 acres of land in Bottle Creek, North Caiços, two parcels of land totalling just over 2.5 acres in the Leeward area, a condominium in the Alexandra Resort held in the name of Windsor West Limited, accounts at TCI Bank, British Caribbean Bank, HSBC Coral Gables, Bank of America in Los Angeles, and NatWest Law Courts in The Strand London, and one in the Czech Republic," the Sun reported.
The court also gave Misick 28 days in which to file and serve an affidavit setting out with "full particularity, the nature and extent of all of the assets in which he has any interest, wherever they may be situated in the world and whether held directly or indirectly by him and whether held on his behalf by others as nominees or trustees or as the recipients of tainted gifts".
He should also include in the affidavit an account of all transfers out and receipts by him of greater than US$10,000 in value since July 1, 2005.
The Sun report also said that the order does not prevent Misick from spending up to US$5,000 towards his initial legal expenses in order to be advised about its meaning and effect, and to receive advice on whether he might be entitled to move the court to vary or discharge it. However, before spending such money, Misick must tell the prosecutor where the money is coming from.
Around the Web