The body of Ravendra Persaud, 17, was yesterday morning found lying on the roadway at De Hoop Road, No. 10 Village, Mahaica Creek, near a wedding house where he had been a guest just hours earlier.
There were marks of violence visible around the teen's head and police said they were probing the circumstances of his death. A taxi driver was detained for questioning but it is unclear if he was still in police custody at press time last night.
The teen's body was found at around 7:30 am by a child, who heard Persaud's cellular phone ringing. On investigating its origin, the child stumbled upon the body, which was lying in the grass just off the edge of the roadway. The body is at the Lyken's Funeral Parlour awaiting a post-mortem examination.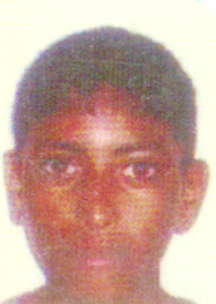 Persaud, called 'Pochen,' a gardener of Lot 33 Supply, Mahaica, was last seen at the wedding house, where he had gone with three relatives, which included his cousin Deodat Hemraj.
Hemraj told Stabroek News that when they arrived at the location, they drank and danc-ed and everything appeared to be going well.
"While we were in the middle of the sporting and thing, Persaud big brother—one of the two relatives who had accompanied them—come and ask me if I see him. I said no and we start look," he recalled, while adding that they searched the wedding house and surrounding areas, including the spot where the body was later found.
He said that the teen went missing around 9:30 pm and they searched until after midnight. "And we didn't find him nowhere," he noted, while adding that calls to the teen's cellular went unanswered, leading them  to assume that he could not hear it because of the loud music.
Hemraj said that at one point they thought that the teen had gone to another wedding nearby that was being hosted by other relatives. He said that they searched there but also came up empty-handed.
After concluding that Persaud probably decided to sleep at a relative's home for the night, the trio returned to Supply. "…When we come home, he brother seh… 'he musee sleep at he auntie or something,' so he didn't really worry too much," Hemraj pointed out.
He said he was later informed of Persaud's fate by his wife, who called with the distressing news. "He was found like 75 feet away from the wedding house and yuh know we search all about deh last night and we didn't see him there," he said, while opining that Persaud was killed elsewhere. According to him, based on the information he has received, Persaud was hit about the body including his head.
Stabroek News was told that Persaud's father, who was in Berbice, tried calling him yesterday morning, resulting in the discovery of the body by a child, who heard the ringing mobile phone.
When Stabroek News visited the wedding house, the music was blasting. Several persons who were inside said that they did not know anything about the incident and that the body was not found there. One woman, however, admitted that she saw Persaud there in the company of a "friend" but she declined to say anything further.
Hemraj said that he found it strange that the body was found so close to the wedding house and yet no one saw Persaud being attacked or noticed his body prior to the discovery.
Persaud's mother, Meena Kumarie Mangal, was in tears at his home yesterday, where relatives and friends gathered to console her.
The woman said that she last saw her son when he left for the wedding house. "It is all shocking that he left home in one piece and will never return," she said.
After learning that he did not come back home with the others on Monday night, she said she assumed he slept at a cousin at De Hoop. However, yesterday morning she received a telephone call and was informed that "they find one boy lie down a road corner." When she arrived on the scene, her worst fears were confirmed.
Persaud was bleeding through his nose and according to Mangal, the police told her he had been hit in the head.
"Ah don't know where they beat meh son because they had searched the wedding house and did not find him and they said that maybe he could have gone by his grandmother and sleep," she said.
Mangal added that following the discovery, she and other relatives went to the wedding house but persons there said that "dem na hear nothing and dem nah know nothing. Dem seh that he was there sporting, but after dat they didn't see him."
Relatives yesterday said that the teen's death was baffling and they could not come up with a reason why someone would want to harm him. They said he was a very quiet person who had no disagreements with anyone.
Around the Web