Nation of Islam aide Akbar Muhammad says he plans to sue local police for unlawful arrest and defamation of character and if he wins he says he will use the money to help protect Muslims falsely accused of crimes because of their names and spirituality.
This development comes after President Bharrat Jagdeo told reporters at a press conference last week that the government will not issue an apology—which Muhammad had demanded after his release from custody here in May.
Muhammad and his lawyers plan to announce the lawsuit at a news conference in front of the Guyana Embassy in Washington next Tuesday.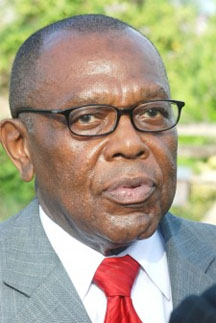 Speaking to CNN, the 69-year-old said that he was wrongfully arrested and detained based on his religion and affiliation with Nation of Islam leader Louis Farrakhan. He served as Farrakhan's top aide between 1965 and 1974.
"What they did was absolutely wrong… They put my name out all over the world as a terrorist and drug trafficker," Muhammad was quoted as saying by CNN.
"When people smear your name, you have to make some noise, you have to take a position," he said. "I'm doing this, yes, for my personal reputation. But I'm (also) doing it for Muslims," he also said.
Muhammad, the international representative of the Nation of Islam—an African-American religious movement that gained attention in the 1950s under the leadership of Malcolm X—travelled to Guyana in May to appear on television programmes and to speak with children in impoverished areas about social issues, CNN said.
According to Muhammad, police knocked at his door at Georgetown's Princess Hotel in the middle of the night and threatened to break it down. The authorities claimed they had been tipped off by the CIA, according to Muhammad. Muhammad was detained overnight in what he described as a filthy, crowded cell. He was released the next day without charge. He believes his detention might have been politically motivated.
Muhammad said his trip was not about politics, but he believed he drew the ire of the government for appearing on a TV station aligned with the opposition.
Prior to deciding on his lawsuit, he said he demanded an apology from Guyanese authorities.
The US government has distanced itself from the incident, saying that it had nothing to do with the arrest of Muhammad, with a local embassy spokesperson saying, "The CIA [Central Intelligence Agency], nor the US government nor any agency in the US was involved in the arrest of Mr Muhammad." The spokesperson further stated that the US government did not request or provide any information about the Nation of Islam member.
Jagdeo had told reporters that law enforcement agencies had intelligence and information to justify Muhammad's detention. He said police were obligated to arrest him for national security reasons.
"They arrested him; no one, excluding the president, is immune from being arrested," Jagdeo was quoted as telling reporters.
Muhammad insists that the Guyanese government's position is not acceptable.
He said he has a heart condition and was denied his medication while in custody, something he claims could have caused him to become seriously ill. He also said that the suspicions about him were ludicrous, adding that he feels innocent Muslims all over the world—not just him—are being unfairly targeted.
"I have fought for 51 years of my life against the abuse of illegal drugs that has devastated the black community," Muhammad said. "I had 14 grandchildren looking at pictures of me on television as a terrorist and a drug runner."
Muhammad's attorney, Martin McMahon, said the accusations against his client were "serious" and that the lawsuit against Guyana's police, which is being filed in federal court in Washington, will ask for damages. "Unfortunately, his reputation has been shattered worldwide because a lot of news articles repeated the lie that he supported terrorism and is a drug trafficker," McMahon said. "Had they simply checked the facts, they would never have arrested him, and he wouldn't have been humiliated about these nefarious crimes."
Muhammad, who was born Lawrence Prescott and now lives in St. Louis, lectures to civic organisations, students and business leaders around the world.
The FBI raided his house in St Louis in 2007, according to an article in The Final Call, a newspaper started by Farrakhan.
In 2009, Muhammad pleaded guilty to mail fraud after being accused of using different names on applications for loans and credit, court records show. He was sentenced to five years' probation, but has been able to travel.
Hours after Muhammad's arrest, police detained Canada-based Guyanese associate Phillip Simon and a local man, Tyrone Seymour. Seymour, a Cove and John resident is Simon's barber.
The main opposition PNCR had dubbed the men's detention and imprisonment "arbitrary," and it demanded a full public explanation from both the government and the Guyana Police Force.
Crime Chief Seelall Persaud had explained that Muhammad was arrested after police got wind of a discussion between the man who brought Muhammad to Guyana and another person.
Persaud said the police had suspected at first that the discussion had taken place between Philip Simon and Muhammad, hence Muhammad's arrest and detention, but it was later established that it was not him.
Around the Web