One of the victims of Thursday evening's Lamaha Street accident, Rozena Razack, is now a patient of the Intensive Care Unit (ICU) at the Georgetown Public Hospital.
Razack, 37, is said to have suffered severe head injuries. Razack and Yolanda Murphy, two employees of the Clear Connect Call Centre, were struck down on Lamaha Street, Kingston, minutes after leaving work. The two were heading in the direction of the car park when tragedy struck.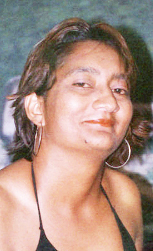 According to an eyewitness, the car had swerved into the girls' path, and upon impact, hurled Razack over the vehicle while Murphy hit the windscreen. Murphy, who reportedly sustained hand and foot injuries, was treated and discharged from the hospital.
The driver, meanwhile, remains in police custody.
Around the Web