Two men were yesterday charged with involvement in last week's raid at Five Star Backdam, North West District, during which a Brazilian was shot multiple times and others were robbed of over $2 million in raw gold and a gun and ammunition.
Roger Simon, no address given, was charged with discharging a loaded firearm and intent to commit murder. He and Ashman Scott, called 'Duke,' 34, of Lot Z Supply, East Bank Demerara, were jointly charged with two counts of robbery under arms. They were not required to plead to the indictable charges which were read to them by Magistrate Hazel Octave-Hamilton, at the Georgetown Magistrates' Court.
It is alleged that on July 18, Simon discharged a loaded firearm at Felix Lasaro Dos Santos Souza with intent to commit murder. Also on the same day and at the same location, he discharged a loaded firearm at Souza with intent to main, disfigure, disable or cause grievous bodily harm.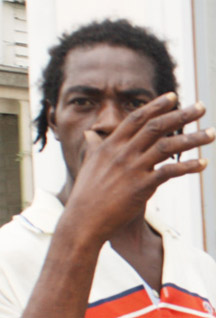 Further, it is alleged that on the same day Simon and Scott along with two others, while being armed with a gun at Five Star Backdam, robbed Celson Chaves Da Silva of a .32 pistol and matching rounds. On the same day, the duo, being armed with a gun, allegedly robbed Sergio Rodrigues Dos Santos of eight ounces of raw gold, valued $2,144,000, and a digital camera, property of Maria Betania de Souza.
Police had said that Souza was shot, while two other Brazilians were robbed in the attack, which occurred last Monday.
Investigations revealed that the four perpetrators, two of whom were armed with handguns, entered a mining camp around 7 am, held up the two Brazilians and took away a quantity of raw gold, a digital camera and a licensed .32 pistol with seven rounds from them.
In the process, the men discharged several rounds, hitting Souza to his shoulder and jaw. The wounded De Souza was transported to Port Kaituma and later flown to the city were he was treated.
A police team was dispatched to the area to investigate the incident and while there received information that the suspects were hiding out in a building in the area. When ranks swooped down on the location and arrested them. They were later transported to the city and subsequently charged.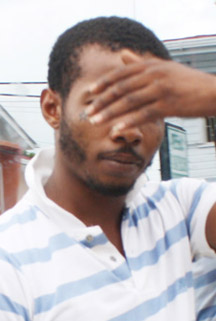 Attorney Abiola Wong-Inniss made an unsuccessful bail application for Scott. The defence attorney said that her client has been employed as a miner for in excess of seven years. She said that he was previously charged with common assault and had no other antecedents. It was on these grounds that she asked the court to grant her client bail.
The police prosecutor in response objected to bail on the grounds of the seriousness and prevalence of the offence. After listening to both sides, the magistrate denied Scott bail.
She remanded both defendants and adjourned the matter to August 22, at the Matthew's Ridge Magistrate's Court.
Around the Web