International Cricket Council-accredited umpire Clyde Duncan died early this morning in Trinidad following a battle with cancer.
According to a close family friend at Duncan's Vreed-en-Hoop home, the cricket umpire was in the neighbouring island for treatment. He died this morning at the age of fifty-seven.  His wife, Faye Duncan, along with other relatives had travelled with him to Trinidad.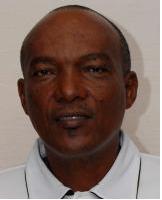 Duncan only umpired in two test matches, the first in March of 1991 which was played between West Indies and Australia and the last played between West Indies and England in March of 1994. But he had a healthy umpiring career in the one-day version of the game as he appeared in some 21 matches between 1998 and 2010.
The following is the statement issued today by the WICB on the passing of Clyde Duncan
Gros Islet, St Lucia – President of the West Indies Cricket Board Dr Julian Hunte sent condolences to the family of Umpire Clyde Duncan who passed away in Trinidad today while receiving medical treatment.
"It is with immense sadness that the Board has learnt of the passing of Clyde. We extend deepest condolences to his wife Fay and their four children," Dr. Hunte said of the Guyanese umpire who was 57 years old at the time of his death.
"Clyde served West Indies cricket faithfully for over two decades and was always humble in his service. He was a consummate gentleman, always kind and pleasant and he will be missed in the cricketing fraternity. The West Indian cricket family is poorer with this immense loss," President Hunte said.
Umpire Duncan stood in two Tests in the early 1990s and his international career spanned 1988 to 2010. His debut One Day International was between West Indies and Pakistan in 1988 at Bourda. He last stood in an international match in Antigua last year when West Indies played South Africa.
Duncan stood in 21 ODIs and six Twenty20 Internationals and performed third and fourth umpire duties in numerous other international matches while he was a member of the ICC International Panel.
Umpire Duncan was born on January 7 1954 and is survived by his wife Fay and children Dr. Tracey Duncan-Clarke, Joanna, Troy and Susanna.
Off the field Duncan served as Cricket Operations Manager in Guyana for ICC Cricket World Cup 2007 and ICC World Twenty20 Tournament last year. He was also a teacher and Head Master at various schools in Guyana during his career in education.
Around the Web