Relatives of Basmattie Anantram, 46, are beginning to lose hope as six weeks have passed since she went missing.
Anantram, better known as 'Dato,' disappeared on June 8, from her Sea Well, Corentyne home and was last seen by her husband.
It was reported that the man left sometime around midday to look after their cows and upon his return about an hour later the woman was nowhere to be found.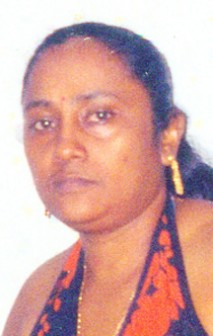 One of the woman's relatives explained that her husband migrated to the US about six months ago, but was here on vacation when she disappeared. The man returned to the US two days after her disappearance and has not called since to inquire of any developments in the matter, a relative noted.
The matter has since been reported to the police.
The woman's brother, Dilchand Pooran, said he on Tuesday visited the local human rights group and was told that the police were supposed to move forward with the investigation and should have already gone to the US Embassy to acquire Anantram's husband's address and other basic information.
Pooran further stated that he was given a letter to present at the Office of Professional Responsibility at the Brickdam Police Station. But when he appeared there, he was then referred to a senior judicial officer, who told him that nothing else can be done and that the police are already doing their best. "How can you tell me something like this when my sister is missing from her husband's house?" the man impatiently questioned as he spoke to this newspaper.
The man further stated that he has received information that an unidentified body was recently discovered in Suriname and he is under the impression that it may be his sister. As a result, the man has decided to travel to Suriname today to inspect the body.
Pooran, who has been trying desperately to locate Anantram since her disappearance, said this may be his last chance as he admitted that he had since explored all his options. "I give up now. I don't know what to do," the distressed brother stated.
Pooran then recalled an observation made by his father about a week after Anantram's disappearance. "He de see a bag in the Tamarind Dam that de smelling stink, stink but he didn't know his daughter was missing at the time or he woulda check," Pooran explained.
A relative had previously told this newspaper that nothing was taken from the woman's house. "Nothing ain't gone from her house, no clothes, no passport, no ID card, nothing. Everything is still there. It doesn't seem like she left on her own free will because she woulda take something," the relative stated.
Around the Web