Representatives from Good Earth Development yesterday met with President Bharrat Jagdeo to "facilitate discussions for (a) coalition among Guyanese engineers and financiers" to build a railway between Boa Vista, Brazil and Georgetown.
A news release from the Government Information Agency (GINA) said that the team of consultants from Good Earth Development included Chief Executive Officer (CEO) Mark Chatarpal, Gregory Shaw and other clients. They held talks with Jagdeo at the Office of the President. The company is soon to have a Guyana office, GINA said. It is not clear where the company is based as this information is not listed on its rudimentary website.
The release said that Chatarpal told GINA that the rapid growth in Guyana's economy and its geographic position to Brazil and South America has been the motivation behind the concept. "There is a growing urgency from the business community in Guyana as well as in Brazil to facilitate some sort of interconnectivity between the two countries to make this a possibility," Chatarpal was quoted as saying.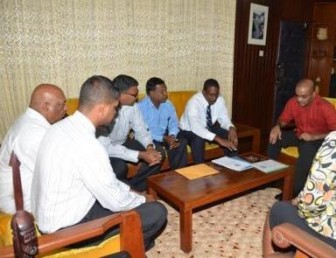 He said Jagdeo welcomed the initiative and assured government's patronage to what appears to be a further tangible link between Guyana and Brazil in the area of infrastructure, according to GINA.
GINA noted that Guyana was the first country on the South American mainland to have a railway and during a recent 'One Stop Shop' exercise at the Guyana National Stadium at Providence, Jagdeo had disclosed ideas for a railway from Diamond on the East Bank of Demerara to Mahaica on the East Coast of Demerara as he spoke of plans to expand the country's infrastructure.
According to GINA, Guyana has far advanced in its plans for trade and investment with Brazil, particularly northern Brazil with major upcoming projects such as the Lethem/Linden road. It recalled that at the opening of the Takutu River Bridge in September 2009, then Brazilian President Luis Inacio Lula da Silva had pledged to support paving the road from Lethem to Linden which, apart from air travel, has been the main source of ingress and egress to Lethem in Region Nine.  President Lula had promised to send a technical mission to analyze the financial conditions for the undertaking.
GINA said that government has maintained an open policy to foreign investors including Brazil, a close neighbour and a world class player on the stage of world economics and world politics today.
Guyana had previously not been discussing a railway between Boa Vista and Georgetown and it is unclear how it is now only being addressed with only a few more months in President Jagdeo's term. The discussion about the railway follows news from neighbouring Suriname that it is discussing a railway to Brazil and a deepwater harbour with China. It is believed that if Paramaribo was to accomplish these two projects it would seize the initiative in providing Atlantic Ocean access to Brazil's northern states.
Around the Web