The Attorney General has cited errors in several aspects of law as the grounds for appealing the decision by Justice Roxane George to award $6.5 million to the teen who was tortured while in police custody.
The appeal was filed recently, just one day before the expiration of a six-week period allowed for the move.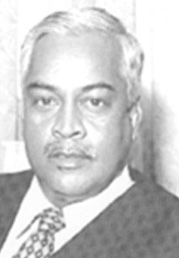 According to a Notice of Appeal, dated July 28, Attorney General Charles Ramson along with Sergeant Narine Lall and Constable Mohanram Dolai, referred to as the 1st, 2nd and 3rd named Appellants/Respondents, were dissatisfied with one part of the June 17 decision.
According to the grounds of appeal in the Notice, the decision of Justice George was "unreasonable, misconceived and could not be supported in law." It says that the Judge erred in law in relying on Affidavits filed in the Motion before her, "having regard to the state of conflict and/or the inadmissible averments therein."
It is being further argued that the Judge also erred in law in that she failed to "appreciate the purpose and Raison d'être" being the statutory injunction and directive enjoined by the provisions of the State Liability and Proceedings Act 1984." Also, it is argued that she also erred in law in her interpretations and applications of Articles 39(2) and 154A of the Constitution.
According to the Notice of Appeal, the judgement ought to be set aside, varied and/or reversed.
The ruling stems from civil action taken against the two ranks, the Commissioner of Police and the Attorney General. Describing the case as constituting torture, Justice George on June 17 awarded the teenager $6.5 million in damages.
In giving her ruling, she explained that there had been a violation of his fundamental human rights.
She said police surgeon Dr. Mahendra Chand compounded the violations by what the court considered to be a lack of sensitivity and professionalism.
Justice George declared that Lall and Dolai had violated the fundamental rights of the teen.
In   November 2009, the two policemen appeared in court charged with burning the genitals of the teen with intent to maim, disfigure, disable or cause him grievous bodily harm.
They were also charged with unlawfully and maliciously wounding Nouravie Wilfred.
The duo along with Corporal Oswald Foo were also charged with unlawfully and maliciously wounding Deonarine  Rafick, with intent to maim, disfigure, disable or cause him grievous bodily harm.
The offences were committed shortly after the teen, Wilfred and Rafick were arrested by police in connection with the brutal murder of Region Three vice-chairman Ramenaught Bisram.
The case against the policemen was dismissed in January this year after the teen and the other two defendants failed to attend court. Magistrate Nyasha Williams-Hatmin had issued arrest warrants for them. No evidence was ever taken in the matter.
Around the Web