Although Karen Kerr has refused to give investigators a statement about the ordeal during which she was allegedly shot twice by her partner, two lawyers say that options available to the police include asking a court to force her to give evidence.
Police were forced to release Gavin Joseph without charge after he allegedly shot Kerr, 33, twice in the shoulder during an early morning argument last Friday. The shooting took place at the Prashad Nagar home of the unmarried couple. They have been living together for many years and share four children.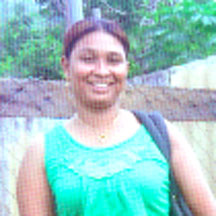 Kerr, who suffered injuries to her intestines and lungs, subsequently refused to give police a statement and Crime Chief Seelall Persaud told this newspaper that police could not institute charges without it. He pointed out that police were not in possession of evidence that Joseph, a licensed firearm holder, had shot Kerr.
Contacted subsequently, Persaud emphasised that to make the case there must be an eyewitness to the shooting that can confirm that Joseph shot Kerr. Further, he said that a link between the bullets taken from the woman's body and the man's weapon is not enough. It is unclear whether investigators got statements from relatives who were in the house at the time of the shooting.
Defence attorney Vic Puran told Stabroek News in a brief interview that it is hard to make a case without the complainant, unless the suspect confesses. He added that without that statement, a case can still be made if there is an eyewitness. He said too that the woman can be legally compelled to give the statement, if she is unmarried. The police can approach the court to get her to give evidence, he noted.
"All he has to do is marry her in such a case," Puran pointed out, adding that he has seen similar cases during his career.
Meanwhile, attorney Anil Nandlall told Stabroek News that a charge is triggered by a virtual complaint and while it may be difficult for the police if that person refuses to cooperate, the Director of Public Prosecutions (DPP) still has the power to institute charges against the suspect.
He said too that the woman can also be compelled to give evidence if she is not legally married to the man. Nandlall said that in a case where she fails to follow the court's instruction, she can be charged as well with obstruction, and failing to report a crime, among other things.
Nandlall, who has been a defence lawyer for more than a decade, said that when there is a case regarding a criminal offence, the law obligates you to provide information to the police. He said that one must understand too that a crime is committed against the State and not against a person. In this regard, the State, he said, always has the legal right to enforce the law whenever there is a contravention.
"The virtual complainant is merely a witness to the crime/offense," Nandlall stressed.
Asked if bullets pulled from the victim's body, gunpowder residue on the suspect's hand or a recording with someone implicating the suspect would be enough to see a charge, Nandlall said, "Why is that not enough?" He said that it is a question of evidence, and once it points to a suspect, the court will determine "if it reaches the threshold to yield a committal in respect of that particular offence."
Quizzed about using recordings as evidence against a person, Nandlall said that the rule of evidence allows for the admission of audio and video recordings.
Not surprised
Women's rights advocate Karen de Souza, of Red Thread, told Stabroek News that the police's action in this case came as no surprise to her. She noted that from all appearances, the police tend to pick on the person of least resistance in all matters and in cases of domestic violence, it is the women.
de Souza said that there are many instances of inaction in cases involving women and their partners.  She cited the case of Bridgette Gangadeen, who was allegedly killed when her husband pushed her out of a vehicle and then drove over her, saying that it is a prime example of where serious investigations were needed but police dragged their feet. Gangadeen's husband was recently committed to stand trial in the High Court for her murder.
In the Kerr case, she said that based on everything that has been reported, she would expect police to conduct ballistic tests, tests for gunpowder residue on the alleged shooter and to presumably get statements from residents. She added that in a case where the evidence was circumstantial, the man should have been held while the police continued investigations.
In a letter, published in this newspaper's August 18th edition, de Souza questioned how the police were unable to proceed without a statement from the woman. She noted that the woman was shot and taken to the hospital for treatment, while reports were made to the police and a licensed firearm holder surrendered his weapon to the police.
De Souza pointed out in the letter that reports included the suggestion that the firearm holder admitted shooting the woman and the fact that there were two gunshots made it unlikely that it was accidental. "How can the police say there is no evidence to proceed – even in the absence of a statement from the victim of the shooting? Do the statements made to the police have no weight? If the police have no statements, are our daily newspapers more effective about gathering information about crimes than the police?" she questioned.
Further, she said that the reported responses by the Crime Chief suggest to her that "every licensed firearm holder is free to inflict gunshot wounds on others provided he or she ensures that the victims refuse to make statements to the police."
Meanwhile, Nandlall, who is also a PPP/C Member of Parliament, said that instances where victims refuse to testify against their partners have serious social implications.
He said that the government has witnessed an unfortunate and alarming rise in domestic violence across the country and through the Ministry of Human Services it has implemented several policies, legislation and initiatives to tackle "this very serious problem."
He pointed out that "unless the virtual complainants are prepared to take a stance, these efforts will be futile." He said that the Kerr case is a classic example of a virtual complainant not being prepared to prosecute someone "who has violently assaulted her and this incident is symptomatic of what happens on a regular basis in society where the virtual complainants in domestic violence case refuse to report these matter to the police or to testify in court."
Nandlall added that evidence will show that these are the very cases that will ultimately result, after a period of time, in murders. He said that domestic violence is a social phenomenon that gets progressively worse, beginning in some cases with a common assault and concluding in a murder.
Around the Web