Colonel Mark Phillips of the Guyana Defence Force has returned to Guyana after successfully completing  the 50th Advanced Course in Hemispheric Defense and Security at the Inter-American Defense College during the academic year 2010-2011.
The GDF said in a press release that the course prepares senior military officers and civilian government officials from OAS member states to assume strategic advisory positions related to hemispheric defense and security, and to work in security and defense strategy and policy development at the highest levels of decision-making.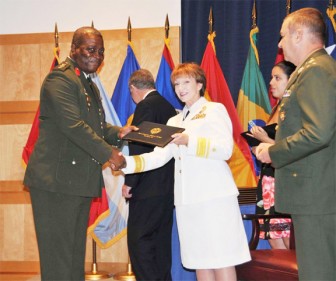 The Inter-American Defense College at Fort McNair, Washing-ton, D.C. is an international educational institution operating under the aegis of the Organization of American States.
It provides a multidisciplinary, graduate-level course of study for senior military and civilian officers. The release noted that the rigorous one-year course provides a comprehensive understanding of governmental systems, the current international environment, the Inter-American system, and security issues affecting the Western Hemisphere and the world.
Colonel Phillips hails from the mining town of Linden and joined the GDF in December 1980.
After he graduated from the Royal Military Academy, Sandhurst in the United Kingdom in 1981, he served the GDF in several junior and senior level appointments over the last thirty years.
Prior to attending the Advanced  Course in Hemispheric Defense and Security,  Phillips held the appointments of Colonel Administration & Quartering, and Colonel General Staff in the Defence Headquarters of the GDF.
Phillips was Guyana's Head of Delegation to the Inter-American Defense Board from 2008 to 2009, and at present is Guyana's non-resident Military Attaché to Venezuela.
He holds a Bachelor's Degree in Public Management from the University of Guyana (1998), and a Masters Degree in Public Sector Management from La Pontificia Universidad Catolica Madre y Maestra in the Dominican Republic (2000), the release added.
Around the Web