Around 15 persons gathered in front of State House yesterday and stuck their middle fingers out as they expressed grave concern at the charging of 18-year-old Kevin Simon who allegedly showed his middle finger to President Bharrat Jagdeo's convoy.
Yesterday marked the second day that a protest was staged over what the protesters deemed the constitutional rights of citizens.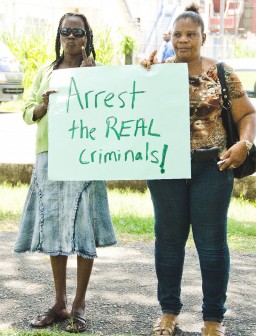 Among the gathering were members of Red Thread and the Grassroots Women Across Race (GWAR) who opined that jailing a young man for such an act is beyond despotism.
Charlene Wilkinson, who represented her family and herself as a citizen, told this newspaper that it could not be stupidity because Simon was in jail for 2 weeks.
"I believe that our land has been reduced to a land of cowards," she said as she held her placard which read "A finger is just a finger", still displaying her middle finger.
Wilkinson further stated that the Government has violated the human rights of the citizens of this country and considers this to be the point where "we've hit rock bottom".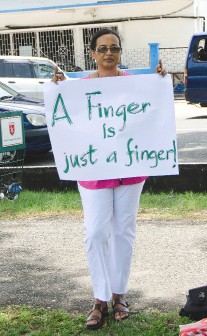 The purpose of this picketing, Wilkinson explained, is to make a statement to the people. "We have to come out and speak out…this has gone too far," she said. "There are criminals out there that are not being arrested because they have friends in the political elite," she further stated.
When asked if she fears having to face similar consequences as Simon, Wilkinson stated "If they have a prison big enough for all of us then we'll have a grand time… human rights must be upheld".
Also speaking with this newspaper was Natasha Yhap, who indicated that the group is hoping more citizens join with them so as to prevent the Government or any future Government, from stifling their rights.
Around the Web