We were mostly strangers, checked in at different hours with a common aim; to get on the next flight out of New York to Guyana scheduled by Caribbean Airlines. The rush of bodies at JFK airport in the wake of tropical storm Irene was initially among our concerns. Would any of us get on a flight?
Chaos feebly describes the airport situation. Thousands of people from every corner of the globe it would seem were fighting to get home and every few minutes a fiery verbal battle would erupt. From Spanish 'cuss-downs' to spicy Ukrainian exchanges, tempers flared and frustration was everywhere.
Interestingly, there seemed to be a sense of order at the check-in for Delta Airlines, which had fewer passengers. Silently, I longed for just a fraction of that calm but Caribbean Airlines had assured me that I would be leaving at 9.30 pm on Monday, August 29, 2011. I had been pulled off my scheduled BW525 flight home which was to leave at 5.40 pm that day and as I later discovered, over 200 Guyanese were treated similarly.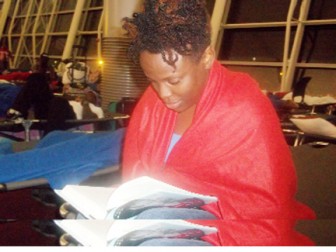 Caribbean Airlines fed us a story about flying directly to Guyana without a stop-over in Trinidad; and we went for it. Some passengers were pulled from BW 425 scheduled to leave at 1.05 am on Tuesday, August 30 and others suffered cancellations during the weekend due to the storm. But 9.30 pm was just a few hours away and I would be going home, or so I thought after checking-in at 3.30 pm.
I passed those first hours chatting with Guyanese who were eager to get home and others on stand-by for a flight out. No one I spoke to had been really affected by Irene except for a little flooding and in the case of one woman, a fallen tree branch on the windscreen of her car. I concluded that for many in immediate New York area, Irene had been a bit of a wimp.
Just as it was approaching 6 pm, news reached me that the flight was now leaving at midnight with boarding set to commence at 11 pm. I fumed for a bit, but reasoned that it was just a few hours and the flight was confirmed. There was nothing for me to worry about, but I though of the folks who were on stand-by; when would they get home?
JFK's Terminal 4 is your typical waiting area and as we awaited our midnight flight many of us took a quick nap. I was too eager to sleep so I waited up, spotting a dear friend and her daughter who had checked-in on the same flight just after 10 pm. They had rushed to the departure lounge expecting that boarding would start soon. Then it happened. The airline announced that the flight to Guyana had been delayed until 2 am Tuesday, August 30, 2011. Then time quickly shifted to 4.30 am and within a few hours nothing was for certain.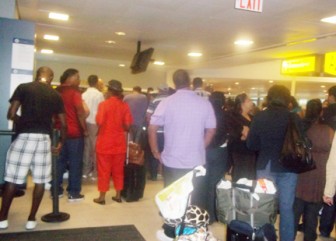 We fumed, some of us publicly ranted over the delay and others called it "unacceptable" in scattered conversations. It would be the first of many such protests as the hours dragged on and 2 pm found us at the airport still with no any definite word on when we would leave.
Cold, hard stares
The airline then announced that its chartered North American aircraft had mechanical problems and was being serviced. This meant we would have to wait until this problem was fixed.
"What about hotel accommodations?" some people reasonably asked only to be met with cold, hard stares and outright refusals. Airline officials claimed there was no accommodation available but meal vouchers were, and if anyone was interested, taxi fares to a New York address in the immediate area. Quarrelling with the officials were futile as their reactions all seemed programmed – ignore, ignore, ignore.
The fact that passengers travelling to Trinidad and Tobago, Jamaica, Grenada and Antigua were leaving on scheduled flights concerned us and later developed to something deeper based on our analysis; this was not simply a problem with the airline struggling to get flights out of New York after the storm, this was a problem with the airline flying Guyanese passengers home. I scanned terminal 4 and realised that this issue was serious. There was Shirley, elderly and travelling with a young granddaughter and not only was she tired; she could barely endure another night sleeping at JFK airport. She braved a smile whenever I went over to say hello, masking her discomfort, disappointment and sadness. I would give up my seat on the plane if I had to just so Shirley could travel and something told me a few others would do the same.
The indignity of folding up in a cold, hard airport chair to get some 'shut-eye' when you're close to being counted as 'frowsy' was initially among my concerns once I realised that we were not going anywhere on Tuesday, August 30.
The airline's offer, this time of a one-way taxi fare to a US address in proximity was tempting. I could grab a shower, a meal and a much needed night's rest in a familiar place, but I said, "No!" No to this shabby treatment by an airline which had acted in true merciless style to patronising Guyanese passengers who had survived a weekend of storm Irene to encounter a tornado of unexpected unprofessionalism and disrespect from Caribbean Airlines. Airline rep Ms Sarah Young, seemed to have been specially selected for her coldness and implacability; her apologies were curt and insincere.
My close friend had been staying out of state and had no place to go. I decided I was going to tough it out also. I was going to sleep at JFK airport a second consecutive night.
We found cots, which were provided by the airport on a first-come basis, assisted by a stranger whose kindness floored us and stood out after two days of disappointment and cold, hard reactions from airline officials. The kind gentleman even advised us where we could shower at the airport.
We rolled the cots down and tried to sleep. It was difficult with the screeching sounds of luggage being wheeled by and the constant flight announcements. Virgin Airlines must have sent out no less than eight messages for a passenger who was probably passed out somewhere at the airport or never turned up for his flight. While some of us were lucky to find cots, others slept another night on the cold, hard chairs in terminal 4.
 Unity, strategy  and militancy
Demoralised is one way of summing up our feelings. I remember walking into terminal 4 on the morning of August 31, 2011 feeling strange. My body was barely holding up and while I had found ways of maintaining personal hygiene it was just different.
Kadri Parris, a vocal and persistent voice against the treatment being meted out to us Guyanese, was the first one I heard as I took a seat in terminal 4. There was something about him which stood out and I sat and listened as he spoke with a few passengers:
"We have to be sensible about this and devise a new strategy. This airline has not listened to us and what is happening is not only unacceptable it is degrading," Parris said and I sat there thinking he was right.
My close friend reasoned why a new strategy was critical. She said anger had not worked and desperate pleas had fallen on deaf ears; strategizing was important and according to her, strategizing meant uniting and stepping up our militancy.
I was weak but I found strength in this new reasoning. We needed to unite and communicate to this airline that the disgraceful treatment had to end. My eyes, tired but sharp, quickly scanned the room and realised that people were gearing up for a challenge. I was not going to sit this one out.
Milton Bruce, another sensible voice throughout our ordeal, was standing in full view as I looked around the room and he seemed eager to say a few words. I felt his words were wise and his reasoning cautious so I decided I would get up and listen. Bruce, a re-migrant, was making that last trip home, well for the time.
The airline had assured us that we would leave JFK at 9:30 am on August 31, 2011. Some of us wanted to believe it, others did not. I was among those who were hopeful but by 10 am there was no sign we were travelling home. Parris and a few others led us in song. "Dear land of Guyana//Of rivers and plains…" resounded around terminal 4 followed by "Let us cooperate for Guyana//Let us cooperate for our land…" drawing stares from other travellers passing through.
Then the airline fed us yet another excuse; a chartered plane was on its way from Germany and would arrive at JFK at 8 pm. Our flight would leave at midnight.
This was the tipping point in our evolving, shameful situation. Airline officials anticipated our fiery, verbal rejections and offered to accommodate passengers at a hotel but not our united militancy. At that point, enough was enough!  We said no to the meal vouchers and the accommodation. And as flight BW 3501 destined for Port of Spain was announced, we declared, "No Guyana, no flight!" We blocked boarding gate A3, then moved to block A5 also when 3501 was moved there. Our unity paid off. Shortly after, BW 3501 was cancelled and BW 3503 was on – destined for Georgetown, non-stop. If only Guyanese could pull together like this all the time – what a country we would have.
Around the Web