Relatives of University of Guyana (UG) student Anthony Ting-A-Kee are puzzled at the way he was murdered and have suspicions regarding how it occurred.
George Ting-A-Kee, father of the 21-year-old spoke with Stabroek News yesterday, airing his concerns while giving some background information on the months and weeks leading up to his son's death. The father of one also corrected what he said was some erroneous information in various newspapers.
According to the senior Ting-A-Kee, the incident did not occur at 3 am in the vicinity of Sheriff Street, but rather it was some time between midnight and half past twelve, just before the Texaco Gas Station in Bel Air. The man is also contesting reports that the incident was a robbery, as he said his son had no jewellery or anything of value on his person, nor did he ever venture out with any; his wallet was still in the car when it was found. Ting-A-Kee said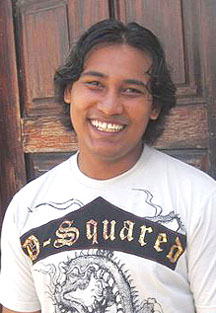 his understanding of what transpired was that the two men jumped over the seawall, while his son and his son's girlfriend were having a meal by the car. He added also that his son was shot whilst outside on the driver's side of the vehicle, and as such he is puzzled as to how he ended up being on the other side.
He said it was an uncle of his son's friend who discovered the vehicle in Lamaha Park, while visiting a friend there. Ting-A-Kee related that this uncle then called his (Ting-A-Kee's) nephew who went over to the location, called him and asked if he had a spare key to the vehicle, as it was locked.  Ting-A-Kee then went to the location with the spare key, where, according to him, the live rounds said to have been found in his son's vehicle, were in a little plastic bag outside the vehicle on the driver's side.
Some neighbours in the area, he said, had told the friend's uncle that some men had driven the vehicle there and parked it.
What disturbs the father most about the whole scenario is the fact that the girlfriend, who was with Anthony throughout the entire ordeal, escaped with her valuables, cell phone included, when he was made to understand that the men had demanded cash, cellular phones and other valuables.
Regarding his son's relationship with the said girlfriend Ting-A-Kee said he didn't know her well, but what he knows is that "she had a boyfriend before my son, and then she suddenly decided she didn't like him or want to be with him any more…" He said the two met at UG and hooked up.
Devastated
Their relationship had ended after the girl suddenly broke up with Anthony, and this, according to Ting-A-Kee, devastated his son. "He just left the house without telling me." Anthony went away, his father related, leaving only a note referring to his devastation at the break-up and asking his father to send in a resignation to his place of employment as he would not be returning to work. The man said he had no idea where his son went. "Eventually he sent me a text message tell me he was ok, but he still didn't tell me where he was. I kept in contact with him for a few days and one day I told him I needed to see him and he came."
Ting-A-Kee said his son appeared to be getting over the break-up, "until one evening when we went to Parika to celebrate one of his female friends' birthday." The man related that on their way back, they stopped in Bagotstown, where they bought food from a restaurant then went to a relative's house to eat. While there, Ting-A-Kee said, they met his son's ex-girlfriend and he believes that was when the attraction for the girl resurfaced. "A couple weeks ago," he related, "Don [a cousin] and Anthony came home late and we all looked at a movie…" At some point during this episode, he recalled hearing his car alarm and as he was about to look out the window, his son received a call after which he announced, "we have a visitor." Ting-A-Kee said he saw the girl on the road, but she quickly ducked and ran under the shed to hide from him. When Anthony went downstairs with Don to take him home, he overheard him offering to give the girl a lift.
Ting-A-Kee related that Don had divulged in Anthony's presence that the girl was scheduled to be married later in the year "to a guy she met a couple months ago." His son already knew this.
He said he later told his son that being involved with the girl could be dangerous.
Lost phone
On the night before the incident [Wednesday night] "I came home some time after 8. My son wasn't home, but I knew he had been earlier as his laptop was on the bed. Around 9, he came home and said that he can't find his phone, so I asked him if he left it at [girlfriend's name]'s house or with her. He looked around a little then he went downstairs to the car. He then returned and told me he was going out and come back." Ting-A-Kee said he had no idea that the girl had been in the car at the time he came home, until it was revealed to him at the police station. From what he understands, she walked over to their Robb Street home where she met Anthony downstairs, and he took her to her home. Ting-A-Kee said he was also made to understand that at the girl's house "they were outside gaffing, when he decided that he wanted something to eat, so they left and went to Sheriff Street at Kamboat and bought food, then went to the seawalls."
The man related that he had learnt from his son's friends that whenever he visited the seawall, Anthony would normally be in the vicinity of Ocean View, but on the night of the incident he was by the gas station. He also revealed that yesterday morning a close friend and neighbour of his called to extend sympathy and related that on the night of the incident a relative was on his way up the East Coast from a religious ceremony and he saw Anthony's vehicle parked on the seawall with the door open and two men sitting on the wall close by.
Ting-A-Kee is convinced that his son did not put up any resistance to the bandits. "I always taught my son if anyone come up to him to rob him not to fight back, so he knows to stand back [especially if the person had a gun]."  However, he said he knew if the girl was being threatened his son would have stood up and defended her, "so if that was the case and he stand up for her, after they shoot him how come they didn't hurt her?"
Ting-A-Kee said his son "was a wonderful boy" and though he did not like the news, they would usually sit and discuss current affairs, during which his son would express concern over the way things were going in the country. Anthony was a member of a cappoiera group, and he was also a black belt Karateka. He was in his second year at UG, where he was pursuing a diploma in Business Management. At the time of his death, he had been planning to further his studies in London.
A post-mortem examination will be performed on the body tomorrow, and his relatives have set Thursday for his interment. A candle light vigil will be held tomorrow night on the university campus, and all are invited.
Around the Web