The Transparency Institute of Guyana Inc (TIGI) was officially launched last Saturday with the goal of promoting good governance through the empowerment of citizens to demand a country where there is transparency, accountability and anti-corruption standards from both public and private sector officials.
The launch, held at the Demerara Mutual Life Assurance Society Ltd Conference Room in Robb Street, Georgetown, also saw a seminar on Freedom of Information.
Bernard Crawford, Director of TIGI, stated that while the organisation will not investigate individual cases of corruption, it would work with organisations that do. He said it would be focusing more on a strategy for providing good governance and lobbying for formulation of policies and legislation, in an effort to promote transparency countrywide.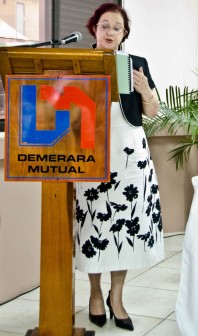 Richard Joseph, Chairman of the Trinidad and Tobago Transparency Institute—the only member in Caricom to be added to the internationally recognised anti-corruption body—advised TIGI that the challenges it will face as it seeks to gain international accreditation will be many. He said that in the Trinidad and Tobago institute's gestational stages, both external and internal issues arose, while noting that it is innate that when persons feel threatened they will react negatively sometimes.
Joseph added that it was only after a long period of dialogue and gaining the trust of government authorities and others that the Trinidad chapter thrived. He then encouraged the Guyana chapter not to allow those seemingly overwhelming obstacles to cause it to lose focus. He also promised that the Trinidad body would always be there to give advice and support when needed.
Geert Heikens, Head of the EU delegation, noted that the EU always has the option of imposing sanctions if good governance is absent but it seldom does. This is an option that rarely works, he explained, saying that instead the EU's emphasis is on dialogue, which is a proven. Further, he said corruption should not be addressed in isolation, while noting the need to strengthen the role of civil society, including the media. He too wished the Guyana institute success and stated that the EU looked forward to working with it on its anti corruption agenda.
Meanwhile, WikiLeaks founder Julian Assange and Indian Anti-corruption advocate Anna Hazare were cited as model activists by Nadia Sagar, TIGI's President, in her presentation on Freedom of Information from a global perspective. Assange, she stated, should be hailed as a hero for his exposure of war logs which depicted inhumane conditions on captives, and generated a massive investigation and prosecution of those guilty. She also cited Hazare as one person who made a difference in a populated and developed country. She added that while  a culture of secrecy, record keeping, and management delays and privacy  laws would be obstacles, these would not deter the local TIGI in its fight to gain international membership to Transparency International.
Meanwhile, Guyana Bar Association representative Christopher Ram and Presi-dential Advisor on Gover-nance Gail Teixeira made presentations on the Access to Information Bill, which is still before the National Assembly.
Ram, who was very vocal in expressing his concern about the non appointment of an ombudsman since the late 1990s despite an annual budgetary provision for the post, sought clarity on the proposed appointment of only one Commissioner of Information who would be answerable to the President under the Bill. The Bar Association has recommended  individual  officers  in each government ministry who could be easily accessed by complainants, he noted. Also, he argued that the proposed legislation would allow the past transgressions of current officialdom to "be swept under the carpet," and he added that this left persons who would have abused the system to evade questioning and judicial actions. Further, he said, the Bar Association could not accept the Bill as is, since the list of exemptions is far too wide and vague.
Teixeira, who did not respond to the non-appointment of the ombudsman, justified a lone Commissioner by citing the difficulty posed by there currently being instances where persons are confused as to where to go to seek help on specific matters of concern. Having one Commissioner, she said, would eliminate this. She added that from her experience in other sectors, people usually spend valuable time trying to find  a person to whom a specified complaint could be lodged. This, for persons especially in outlying area of Guyana, could not only be time consuming but expensive, she added.
On the question of "whistleblower" protection, asked by a member of the audience, Teixeira stated that laws were too complex to singly deal with this issue. She added that from the follow up of the Mechanism for the Implementation of the Inter-American Convention against Corruption (MESICIC), this will be addressed.  She also made reference to  Guyana  being  approached by the United States government, among others, to allocate an area in Guyana for persons in their respective Witness Protection Programmes. This, she said, government had to refuse, since the international community did not recognise the complexity of  the Guyanese culture  of intrusiveness into each other's lives. This, she claimed, would jeopardise the lives persons in the programmes.
Teixeira also responded to questions posed on internet access to parliamentary sittings by members of the public. She informed that while parliament has a Facebook account that is updated periodically during sittings, more needs to be done in the e-governance area to create a culture of awareness. More work is needed in terms of user friendliness of websites,  making them more interactive for both Members of Parliament and the general public, she said.
Around the Web