Almost seven weeks have passed and relatives are still hoping to have the person who killed 26-year-old Kaishri 'Nanda' Persaud and injured 17-year-old Trisha Defreitas in a hit-and-run be arrested and brought to justice.
Persaud, of Lot 10 Crane, Old Road, died while being transported to the West Demerara Hospital while Trisha Defreitas, a United States-based Guyanese, suffered several broken bones, including her pelvis which is fractured in three places. The mother of three and Defreitas were knocked down on July 26 at Crane, West Coast Demerara.
There have been reports that Persaud's husband, Terry, was offered a settlement but the man has denied this, stating that no one has ever come forward.
"We are still at the same point we were during the period of the accident…it got a lot of things going around but you can't believe everything you hear… I still have no clue who it is," Terry pointed out.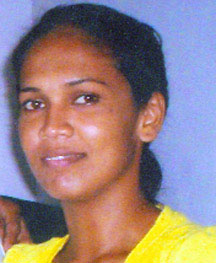 He further stated that the police told him that they have had a few leads but nothing came out of any.
Defreitas' mother, Rose, reiterated that there has been no such proposal. "Up to yesterday he (Terry) was telling me that he hearing people saying that but he said is not true," she said. The family, Rose stated, would not mind taking a settlement since this would help in looking after the three children Persaud has left behind, ages 8, 6 and 11 months.
She further stated that Terry now faces the challenge of caring for the three children on his own and hasn't been able to work since he has no one to look after the minors while he is away. "He got a lot of job offers since but he waiting on his mother to come to look after them," she noted.
"I know them miss they mother… they is come here steady and play and I does try to help out as best as possible but it still feels like yesterday," she said, adding that next week Saturday the woman would have celebrated her 27th birthday.
Meanwhile, Defreitas is scheduled to have surgery performed on her left foot this week. "She have a big lump at the side of her leg and the doctor said that is a permanent damage… she still don't have no feeling in her foot," Rose noted.
"She is now able to sit up… she can stand up and walk too but only with the walker… she can't put no pressure on the left foot," she explained. Her daughter, she said, is still very upset at Nanda's death.
The woman said she will be taking her daughter back to the U.S. next month where she will have to remain in bed for another 2 months.
Rose further expressed her frustration with the police, relating that all she has been told is that the "case still open".
"We got to lef this in the hands of God…we don't know who this person is, they just disappear into thin air," she said. "I just hope when we go back (to the U.S.) I can get some better news and my daughter can walk again," she expressed.
Rose is pleading for the driver to come forward and offer some form of assistance to Persaud's family. "I wish they can show lil compassion because I know how it hard," she stated.
Around the Web