A 90-year-old security guard was found dead yesterday morning aback the consumers' goods complex at Linden where he had been on night duty.
Adolphus James, of Yuraballi Street, Retrieve, Mackenzie, Linden was discovered dead shortly after 6 am. A female security guard made the discovery after doing a routine check when she arrived and did see the man in the guard hut.
According to reports it appeared as though the elderly man might have tripped and fallen; hitting his head on one of the many cements rock at the back of the building. "It look very much like he fall and hit his head," Ewart Forrester, the man's employer and owner of Amazon Security Firm said.
The female security guard who made the discovery said that as she was walking along the back of the building she saw James lying on his back and she immediately summoned the security head office. The man's body bore a gaping wound to the left side of the face under the lower lip which penetrated into his mouth. His face also bore a few smaller bruises and it appeared to be swollen.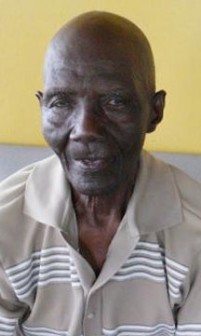 According to Forrester, James had reported that he was not feeling well shortly after 2 am, which was confirmed by a security checker who visited him at the worksite shortly after 4 am. The checker reported that he had spoken with James who was at the side of the building close to the security hut and as he was leaving James was heading to the back of the building.
When Stabroek News visited the scene this morning police officers were conducting investigations and the man's son Kirk and granddaughter Racquel along with Forrester and the checker were all there. Kirk said his father, who lived with him, left home shortly before 4 pm on Sunday. "No matter what shift he got to work he don't let four o'clock reach he home," he said. The man related that his father would take his time and walk to work and spend some time relaxing. Racquel wept uncontrollably and was being comforted by a colleague teacher.
Kirk said he had been preparing to travel to George-town when he received a call saying that his father was not feeling well. "I started hurrying up but half hour after I got another call from his boss saying that they got bad news, my father was dead," he said. On arrival at the scene, the man said, he was shocked to see the manner in which his father had died. Kirk said he was not ruling out foul play because his father might have been in a scuffle or might have seen someone looking suspicious and was investigating when he met his demise.
Several stall holders and market cleaners who worked close by said that the senior James was very active for his age. They all said that very often while on duty he would be seen cleaning his surroundings; weeding, pulling grass and raking. "I use to really admire he fuh a big man, it's sad to see how he end up dead," one stall holder said.
James had been employed with Amazon Security since 1993. During the 18-year period he was said to have been dedicated to his work only taking two days off per week. Forrester said he had opted to work to stay active. "For all those years I never had a problem with time. I have to support his family because he was with me for so long," he added.
Around the Web