As charges of unethical conduct continue to swirl around Queens, New York Representative, Gregory Meeks, the New York Post has published details of an email where Meeks was trying to get a cricket invitation for controversial Guyanese businessman Ed Ahmad to the VIP Box of disgraced Antigua-based banker Allen Stanford.
All three men are facing serious charges for varied alleged infractions ranging from Stanford's alleged massive Ponzi scheme to Ahmad's alleged New York mortgage fraud to Meeks alleged taking of cash for favours. Ahmad's plight has also raised uncomfortable questions for President Bharrat Jagdeo and the ruling PPP as he was the supplier of goods to the President at State House and also occupies the former headquarters of the PPP-aligned paper, The Mirror.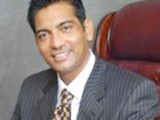 In a story published yesterday, the NY Post revealed a February 19, 2008 email from Meeks to the Stanford Group enquiring about a VIP seat for Ahmad at an Antigua match as Ahmad wanted to meet Stanford. The Meeks email came a year after Meeks had been handed US$40,000 by Ahmad in a controversial transaction that has put Meeks at the centre of an ethics probe and a federal inquiry.
The New York Post said that Stanford later threw cash at the congressman a few months later — hosting a lavish fund-raiser in St. Croix in July 2008, complete with champagne and caviar, that raised at least US$13,800 for Meeks' campaign committee.
The New York Post said that Meeks' relationship with Stanford dates back to at least 2003. Meeks, the report noted, also sits on both the House's Financial Services and Foreign Affairs committees and belonged to the Caribbean Caucus, an informal group of lawmakers Stanford had tried to woo.
In 2006, Stanford called in a favour, the report said, asking Meeks to use his influence with Venezuelan President Hugo Chavez. Stanford wanted Meeks to tell Chavez to convene a criminal probe into a whistleblower at Stanford's Venezuelan bank.
Meeks allegedly was heard on a speakerphone telling Stanford he would intervene with Chavez, according to the Miami Herald.
Meeks soon visited Chavez, ostensibly to thank him for providing cheap home heating oil to Americans. However, a year later, the whistleblower was arrested, according to the New York Post.
Stanford was indicted in June 2009 on charges of masterminding a US$7 billion fraud and is currently awaiting trial.
Meeks, the report said, refused to answer any questions about his relationship with Stanford, or why he agreed to introduce Ahmad to the billionaire.
Both men have an interest in cricket, the New York Post noted. Stanford owned a cricket team and stadium, and Ahmad sponsored his own cricket competition in New York.
Meeks and Ahmad are longtime friends, the newspaper noted. "The congressman held after-hours meetings with the real-estate broker at his Queens district office, and Ahmad boasted that he had his own personal political representation."
Meeks had claimed that the US$40,000 he took from Ahmad was a loan, but a House ethics panel said it appeared to be a gift. Meeks paid back the money in 2010, but only after federal investigators probed Ahmad about it.
Ahmad, who is currently out on US$2.5 million bail and prohibited from travelling to Guyana, faces up to 30 years in prison. The government has said that additional charges or more defendants are likely in his case.
Around the Web