A mentally ill woman last evening slashed the throat of a 39-year-old father of two as he made his way home.
Dead is Sheriff Balmacoon of Lot 16 Section C, Clonbrook, East Coast Demerara. Reports are that he also sustained a stab wound to the chest and several to the back during the incident which occurred around 9.20 pm.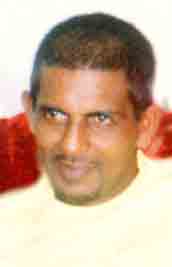 Moments after the incident the woman who was known as 'Bertha' fled holding the knife in her hand. Balmacoon's cousin attempted to follow her but stopped after seeing the knife.
The entire episode has left the community and relatives in shock.
According to the man's fifteen-year-old daughter, Sherry, her parents were separated. Her father lived alone seven houses away.
Another relative earlier told Stabroek News that Balmacoon was an alcoholic and was heading home in a drunken state.
Amidst tears, the teen explained that the woman usually slept in an abandoned shop near Balmacoon's home. The woman does not belong to the area but slept at the shop almost every night.
She said that it was possible that as her father passed the woman he might have said something that triggered her off.
She said that the woman pulled out a knife and slit his throat before stabbing him in the side. She recalled seeing a large crowd gathered near her father's home and immediately thought that he was getting one of his usual attacks. It was explained that Balmacoon suffered from "fits."
When she arrived at the scene her father was lying on the ground bleeding from the neck. According to the teen, her father was breathing at the time and she immediately left to inform her mother who lives out of the area.
"I thought that they woulda put he in a taxi and tek he to the hospital but when I come back they seh how they call the police," she said.
From all indications the police told the callers that they were on their way but never arrived until almost an hour later. By then the man had bled to death. Residents last evening expressed outrage at the police. According to one man only one rank was at the Clonbrook Outpost at the time. The resident pointed out that the man could not leave the outpost unmanned.
When Stabroek News arrived at the scene, police were there conducting investigations as residents congregated and discussed the incident. One resident said that the woman should not have been allowed to frequent the community.
Balmacoon is also survived by his wife Angela and a 12 year old son.
Around the Web