The Guyana Bank for Trade and Industry Limited (GBTI) on Tuesday hosted its Early Savers Annual Bursary Awards ceremony during which 13 young students were recognized for their success at the recent National Grade Six assessment.
Assistant Chief Education Officer (Primary) Marcel Hutson, during his address, said the recipients of the bursary awards demonstrated the resolve, resilience, commitment and courage in completing six years of primary education and as such, the day should be regarded as one of celebration.
He said the community should play a more integral role in the education process of children and further suggested that they should not be shy "in contributing its resources in whatever form they exist…"
Hutson urged the students and parents, who were also present, to make good use of the funds received for the furtherance of education. "Pursue your education diligently for the best is yet to come. Congratulations to you and thanks again to the management of Guyana Bank for Trade and Industry for its vision," he said.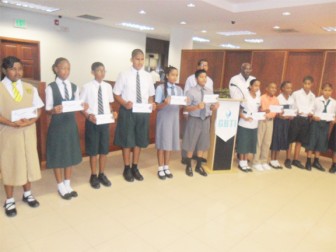 Roma Narayan-Singh, GBTI's Customer Care and Business Development Officer, in her remarks, urged the students to accentuate the positives, to continue to be good students and also to strive for excellence. She also encouraged parents to continue being good role models to their children as they progress in life.  Narayan-Singh also announced the official launch of the bank's Impromptu Speech competition, which is expected to commence next week.
Fourth form students who were encouraged to participate attend Annandale, Christ Church, Covent Garden, Cummings Lodge, Diamond, Leonora, Mae's, Parika/Salem, Patentia, Richard Ishmael, Stewartville, Uitvlugt, West Demerara and Zeeburg secondary schools; Central High School; Institute of Business Education; Marian Academy; President's College; Queen's College; Saraswati Vidya Niketan School, School of the Nations, St John's College, St Joseph High, St Rose's High and St Stanislaus College.
Around the Web