Forty-year-old Zanoila Blair of Rosignol, West Bank Berbice considers herself lucky to be alive after her former reputed husband, Colin Fraser, 43 stabbed her around 8.45 pm on Friday and then slit his throat.
She was rushed to the New Amsterdam Hospital in the estate's ambulance while bleeding profusely and treated for five stab wounds. She was discharged a few hours later. Yesterday when this newspaper visited her at home she was in severe pain.
Fraser too survived his self-inflicted wounds and is currently a patient at the Intensive Care Unit of the Georgetown Public Hospital (GPH). He was first treated at the Fort Wellington Hospital and then transferred in an ambulance.
The attack took place at the GuySuCo Estate, Blairmont where Blair works with a contractor at the "sugar store" and Fraser as a fitter machinist. They were both on duty at the time.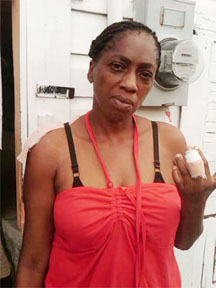 Blair recounted that she was among her colleagues when he told her he wanted to "talk to me about the things I doing." She responded that he "shouldn't bother about what I doing" because they were no longer together.
As she turned to walk away he whipped out two knives from his waist and stabbed her in the back, shoulder and arm. She also sustained a slash to a finger on her left hand as she tried to wrest the knife away from him.
Blair recalled that she fell to the ground and picked up a bench and threw it at her attacker, causing him to fall as well.
He got up and slashed his throat and collapsed to the ground again.
She then ran to a room where some of the workers had gone to seek cover – the others had gone to find help – until the ambulance arrived.
Blair told this newspaper she was involved in a relationship with Fraser for eight years. She spent three of those years living with him at his home in D' Edward Village and almost two at her home.
Five months ago she was separated from him because of his violent behaviour. But he had not left her in peace to move on and kept threatening her.
On August 15, she recalled, he approached her and was about "to pull out something from his [pants] waist. I din wait to see what he had; I ran straight to my boss and he called the security and the police."
The man was also before the court for his aggressive behaviour and ironically, at the time of the attack he was on a bond to keep the peace.
Around the Web