By Marcelle Thomas
Whether it was swirling clay taken from rice fields on a passé potter's wheel, using banana and other plant leaves to make commemorative collectable dolls and fashion clothing, assembling awara, buckbead tamarind and other seeds to make jewellery or using local wood to make dhall swizzlers, clothing beaters, mortars and pestles and rolling pins, local craft producers were out in full force at GuyExpo, the annual trade fair held at the Sophia Exhibition from September 29 to October 2.
Chief Potter and proprietor of N&S Pottery of Wakenaam, Essequibo Islands, Nankishore Andrews, told of the decades-old legacy of his decorative pottery establishment. Andrews said that although a modern electric pottery wheel would make his work less laborious he preferred sticking with tradition using a self-made wooden wheel, which requires constant spinning with a stick, when "throwing" his pieces. "I inherited this business from my father [Nankishore Bissessar] who [got it] from his father and so on. You know it's [from] my great-great-great-grandfather who was called Bahadur who came here from India as an indentured servant." He went on to say "We can easily get machine potter's wheel but we don't want to."
This, he added, was his way of saying thank you, in form of tradition to his ancestors. It was in the late 1800s, he said, that Bahadur had come to Guyana, from India, as an indentured labourer and because of limited recreational activities at that time turned to the mud from the sugar care fields to make models of figurines which he saw in his British/European employers' homes.
He was very gifted with his hands and one British plantation owner noticed his talent and demonstrated to him how the clay he had could be used to make ornaments and wares for his home. He was then given an old pottery wheel which he subsequently refurbished and mastered and began making ceramic pieces for friends and further sold to British immigrants.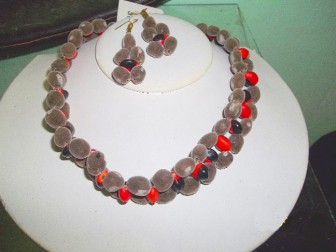 Bahadur, said Andrews, ensured he passed on the tradition to his children and they made a promise to keep the generational craft going. Nankishore is the present owner of the entity. Stabroek News was given an on-site demonstration of the pottery process minus the last phase of baking the clay in an oven, hand decorating it and glazing.
The clay used in the process no longer comes from sugar cane fields but the Andrews family takes to digging in the Essequibo rice fields in search of usable earth.
Natasha and Clairmont David of Creative Designs are doll collectors and clothing designers. Natasha explained that it's her passion for both dolls and clothing that directed her into the merging of the two pastimes to create a business like Creative Designs.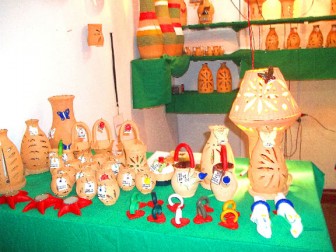 She said that in designing clothing they try to stick with a local theme as such not only the fabric is organic but embellishments are as unique. Her husband David said that gathering of the materials was his contribution to the business. He collects banana leaves, old rice bags, leaves, foil wrappers, hand woven straw, and coconut shells among others to create the clothing. She said "gosh we just love this business and we love art and fashion designing this is why we are here. We use environmentally friendly materials to create just about any piece of clothing you want. Clairmont collects the materials and I do the sewing; a lot of times he has to help there too." To which her husband replied "but I don't mind art is my passion it's what I do."
After collection of materials they plan collectively the pieces they will create for the dolls to wear. Customers are then given the option of buying the doll alone or dressing alike with their collectables.
Many of the women who ventured into the booth expressed awe at the creativity of the designers. While noting that some of the creations were a "little to busy and bold" to be worn during the day one customer stated that they could be used to create unique fashion statements at pageants and other formal social functions.
David said the first two nights of the expo her booth only saw mostly curious participants. She said that as word got around she began receiving local orders but was looking forward to tap into the international market.
She also added that she wanted to be a part of a local women's artist body preferably one where she said she will be able to share her skill with others. Said Natasha, "I really want to be part of a women's art organization or group I know I can help them and they me. I want to be able to share my talents."
Business at the expo she further went on to say could have been better  but it was opportunities like GuyExpo she realized that can showcase her talents and hope that prospective buyers patronize her efforts.
Julianna Hughes spoke enthusiastically of collecting seeds to make jewellery for her Jah Works costume jewellery establishment. She stated that seeds are natural resources and persons should follow suit and try to use them in an effort at recycling while showing appreciation for Mother Nature. Smiling, she articulated, "what better way of adorning oneself but with natural things? We can use them and have better healthier jewellery. People need to realize this."
In making her jewellery she said she travels the country collecting unique seeds most persons regard as garbage. She said her travels especially to the interior have allowed her to discover many plants and seeds which are good not only for her business but also medicinally.
Most of her pieces are made for women she explained because men are not "big" into costume jewellery and seem to prefer traditional gold or diamond pieces. She added that in her opinion nature consciousness, the high crime rate and rising gold costs are factors which have caused women to deviate from gold or silver jewellery. "Women are now becoming conscious that you can wear organic costume jewellery and still be graceful and look fabulous. No longer are they going for big gold earrings or necklaces instead we see them coming with their spouses to buy costume jewellery," she said.
Hughes uses mostly, seeds from plants such as flamboyant, tamarind, velvet, awara and buck beads which she calls the "pearls" of seeds.
However, she expressed disappointment that overseas based customers are her main supporters. Said Hughes, "Here at the expo is no different from at our business site. If 20 people buy 18 are not local and in most cases they are white". As such she advises her fellow sisters to make use of all the resources nature has to offer "experiment, try a little of this and that see what works for you and work it" she said.
Other popular local booths were Dawn's Unique Crafts knitting and croqueting enterprise that allows their customers to not only choose or adjust their pattern of chair backs, table centres and doilies but to purchase their own thread and pay only for crocheting services.
Owner of the business, Dawn Squires, noted that the $35,000 booth fee for Guy Expo was a bit steep and only with the help of supportive relatives was she able to afford same. And she said she knows that she will not make the fee in profit but will possibly gain future customers since the Christmas season is not very far away. It is at this time she explained that she records most of her yearly sales.
With sets of crocheted items starting at an average of $12,000 for five pieces Dawn hopes that the 2011 Guyexpo will afford her the opportunity to sell at least twenty sets come this holiday season.
While some might think some wooden household utensils ancient as the county they hail from, Marcia and Rajanand Singh boast a thriving business in Berbice. The rolling pin, wooden washboards, dhall swizzlers and mortar and pestle makers described with pride to Stabroek News how their business began and its current financial position.
Husband Rajanand said that using local wood they toil five days per week in their workshop to make the items. Done on a large scale, most of the pieces are then wholesaled to other locals who may in turn "walk and resell" them.
Averaging $500 per item the Singhs said that it's the affordability of their items that makes them stand out. In Berbice and other rural parts of Guyana, they said, clothes beaters and washboards are still in high demand. Rolling pins were also a bestseller at the expo, where some persons, they explained, only remembered their homes needing one upon seeing them.
Now that the exhibitors have packed up their stocks and returned to their various production-houses, they will now have to find a way of producing large quantities to not only satisfy local demand but sustainably tap into overseas markets.
Around the Web