When eight-year-old Renee Bisnauth of Cropper Primary School walked on the stage at the National Cultural Centre for the National Spelling Bee Competition she was confident she would emerge a winner.
Renee was among regional champions from 11 districts who vied for the title and her success has qualified her to represent Guyana at the Caribbean Spelling Bee competition in St. Kitts.
The competition was launched on September 12 by the Guyana Telephone & Telegraph Co. (GT&T) in collaboration with the Ministry of Education.
During an interview at her school at Albion, Corentyne last week, she told Stabroek News that winning was easy because she always practised spelling new words.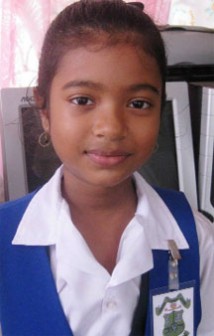 She also enjoys reading "all kinds of books" and became an avid reader at age five. She developed a love for reading because her parents and two older sisters read to her a lot.
The petite and soft-spoken Renee who is a top student in her class spelt almost all of the words correctly during the competition and has already learnt to spell those that she got wrong.
Headmaster of school, Leroy King told this newspaper that GT&T provided a list of words for the students to learn in preparation of the competition. Some of the words that they were asked to spell though were not on the list but Renee still knew them.
He noted that on the day of the competition "she was very much relaxed" and spelt the words with ease.
King said too that the child had a lot of support from "everyone at the Cultural Centre… they realized she was doing well and kept cheering her on."
Renee has walked away with prizes including a netbook, an e-book reader, a flash drive, a trophy as well as a desk-top computer and one year free DSL service for her school. She also earned three airline tickets of which two are for a parent and a teacher.
Around the Web