Police have held a  suspect in the killing of a 14-year-old-old girl of Mibicuri, Black Bush Polder who quit school to avoid a former boyfriend  and ended up being stabbed to death by him in the school playground around 2.20 pm on Friday.
Indranie 'Cynthia' Basdeo sustained stab wounds to the region of her heart  and was  slashed under her chin.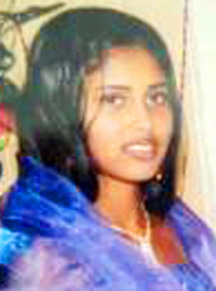 Police said in a release that the 21-year-old suspect had been taken into custody and the murder weapon had been recovered.
Indranie was first taken to the Mibicuri Hospital before being transferred the New Amsterdam Hospital (NAH) where she was pronounced dead on arrival.
Her mother, Gomattie Latchman, 33 said the girl left home around 1.30 pm to attend  school sports.
About half an hour later she received a call from an older daughter, Roshnie, 17 who told her, "Mommy, change yuh clothes and come quick [name of suspect] bore Cynthia."
She said she went straight to the hospital and saw her daughter lying in a semi-conscious state. "Ah see she lying on the bed and she could not open she eyes or talk to me."
She said she accompanied the girl in the ambulance to New Amsterdam and she appeared to have died along the way.
According to Roshnie, the girl broke off the relationship with the attacker following a misunderstanding, but he kept following her and threatening to "bore her. He would walk with knife all over the
place."
She said she had planned to send the girl back to school but because of the threats her daughter was afraid to go.
She said during last month they made a report to the police and the suspect was locked up for one day.
Roshnie told this newspaper that her sister told her she wanted to go to the sports and because of the threats she and her husband, Arnold
Reddy, arranged to meet her at the school gate.
She said they were in the top corridor watching the sports when the suspect heard her telling her husband that she had arrived and he should go out to meet her.
According to Roshnie the suspect told Indranie to wait but she refused and continued walking; "This got him angry and he whipped out the knife and slashed her chin.
She attempted to run away but he grabbed her hair and pulled her to the ground. "She try to block when he go to stab she but he still give she a deep stab she to she heart and he turn the knife and then pull it out.
He hold she while she bleeding…" The woman said Arnold grabbed him and took away the knife and a cousin
threw it over to the playground.
Meanwhile, Roshnie said since they went to live in Black Bush in 2009 he went to her home with his family and proposed to her.
Her parents told him that he had to wait until she reached 16 before she could marry.
She said the man would still try to control the way Indranie dressed and with whom she spoke and the girl tried to avoid him.
Roshnie said too that the suspect even attempted to end his life on two occasions, one time by hanging and the other time by consuming a poisonous substance.
One time it was because persons told him that "he would not get the girl" and the other time was in May because she danced at Roshnie's wedding.
Around the Web