The government yesterday received a much-needed boost in its arsenal to halt illicit arms trafficking in the form of a machine used to mark firearms.
Home Affairs Minister Clement Rohee, who received the United States' donation of the US$10,000 Styliner Mark 3 Dot Peen Marking Machine, said that it would enable law enforcement authorities to trace firearms.
The presentation, on the final day of the Caribbean Basin Security Initiative (CBSI) Commission meeting at the Guyana International Conference Centre, Liliendaal, is part of the ongoing Organiza-tion of American States (OAS) initiative to support efforts to combat illicit firearm trafficking in 30 countries in Latin America and the Caribbean region. Guyana and the OAS in September signed an agreement in Washington to promote firearms marking, as part of the Inter-American Convention Against Illicit Manufacturing of and Trafficking in Firearms (CIFTA).
Guyana has joined the Bahamas, Barbados, St Kitts and Nevis, St Vincent and the Grenadines, St Lucia, Grenada, Belize, Uruguay, Paraguay, El Salvador, Costa Rica, Trinidad and Tobago, Honduras and Guatemala in the initiative.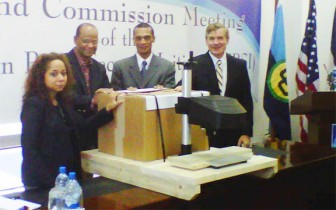 Rohee said the gift will go a far way in helping law enforcement in Guyana.
"…I would also like to send a strong signal to those in this country who are engaged in illegal trafficking in firearms and to alert them that this equipment will help us trace the illegal firearms that are used in the commission of a crime or in attempting to commit a crime in Guyana," he said.
Rohee assured all international partners who are part of the project that Guyana will "stand ready and will be prepared to cooperate with all the countries who are part of this project in so far as national sharing and information gathering is concerned." He told those gathered that the government is committed to fighting crime, detecting crime and preventing crime and the equipment will assist in that respect.
"We have always maintained that as crime becomes more sophisticated, as the trafficking in firearms becomes more sophisticated it means that we who are engaged in this fight have to be more sophisticated in terms of equipment and the knowledge that we use to conduct this fight," he said stressing that in this regard the equipment will assist tremendously.
Rohee said the government is committed to working with the OAS to ensure that the project brings the "requisite results that we all look forward to."
Denis Moses, the OAS representative, said reported murders per capita in 13 out of 14 CARICOM member states of the OAS (Haiti not included) increased from 14.84 in 2000 to 24.96 in 2010. He noted that the region also experienced a surge in gang violence.
According to Moses, the Caribbean serves as a transit point for drugs moving north and the illicit firearms moving south. "Increasingly, however, the guns are staying in the region and are contributing to the increasing rates of crime and violence throughout the region," he said. It is in this regard that the OAS, assigns critical importance to the control and management of firearms as a necessary step for ensuring greater security of the hemisphere's citizens.
"We are here [in Guyana] to support your efforts to combat illicit trafficking in firearms," Moses said.
He said that later an OAS officer will travel to Guyana to provide the necessary training for the operation of the equipment as well as a laptop computer for proper record keeping of the firearms marked.
He explained that the weapons will be permanently marked with identifiable information such as serial number, name and place of manufacture, model and calibre. This, he pointed out, is an essential step for helping law enforcement to trace recovered firearms used in crimes as well as identifying trafficking routes and traffickers.
"As a result of this programme, it is expected that tens of thousands of firearms will be marked throughout the hemisphere and that all member states will have effective policies and legislation in place to support this important and relatively inexpensive practice," he said.
Though these and other initiatives carried out within the framework of CIFTA, the OAS, Moses said, will continue to "strengthen the capacity of all member states to respond quickly and efficiently to the growing levels of crime and violence generated by firearms trafficking."
Meanwhile, US Deputy Assistant Secretary for Central America and the Caribbean Julissa Reynoso said the US government was pleased to fund what she dubbed a very important OAS initiative.
She pointed out that proper marking and efficient records keeping are two key factors in the investigation of firearms trafficking. She added that OAS member states have shown their commitment to addressing this important security concern "through their enthusiastic participation in this project."
Reynoso added that the US is very proud to reiterate its commitment to cooperate with all OAS member states in preventing and eradicating the trafficking of illicit arms in the region. She also said the handing over of the equipment "is an excellent demonstration of our continuous partnership under the CBSI."
It is expected that a minimum of 25,000 firearms throughout the hemisphere will be marked in 2012 as a result of this project.
Around the Web